Koch Goma P7 – Girls' Washrooms
August 10, 2015
As part of this month's focus on WASH (water, sanitation and hygiene), today we'd like to tell you more about the water and sanitation situation at Koch Goma P7 Primary School in northern Uganda. Last week we told you about the impact the latrines we built at the school are having.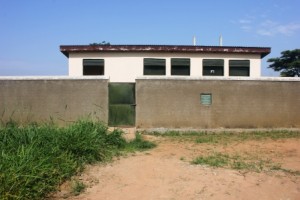 In addition to building latrines, we have also constructed a changing and washroom block for the girls at Koch Goma. This block consists of two shower cubicles, a changing room, and a storeroom. Why did we decide to build these facilities for the girls in particular? One of the main reasons girls drop out of school in Uganda is because managing their periods without the appropriate supplies can be a real struggle, particularly at school. Because of this, many girls abstain from school during their monthly cycle.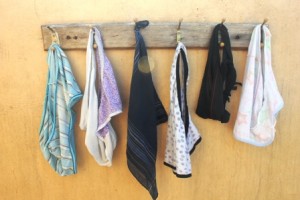 However, girls at Koch Goma are now able to make use of these new WASH facilities as – to bathe, clean their clothes when necessary, and they are even able to keep spare under-wear in the changing room store. The school has also equipped the store with sanitary pads, soap, cloth towels, and smelling oils (which of course, the girls love!). As such, should girls be surprised by a visit from Aunt Flo at school, they have everything at their disposal to retain their dignity and confidence within the school environment.
The washing and changing rooms are private and quiet, and are located far away from the boys' and teachers' latrines, to ensure that girls' privacy is respected. We are delighted to report that the school is now retaining more and more girls each year, thanks in part to these facilities! We'd love to introduce you to two girls who are benefitting from the changing and washing block: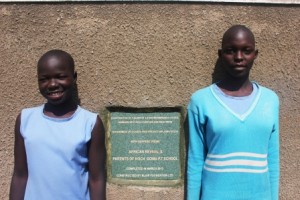 Florence is in P7, and is 13 years old. Like all the girls in Koch Goma's P7 class, Florence boards at the school so that she can concentrate on her studies and pending PLE exams, which will determine whether she can progress to secondary school. Florence is a strong advocate of the washroom because "it helps girls – sometimes they have problems like menstruation, but they can use the washrooms to clean themselves. That is the main reason we use it. So, we can still come to school and not stay in our rooms. When it (your period) happens suddenly and you aren't aware – you used to go home, but now we just use the washing room and sanitary pads. We clean and wash and go back to class. So now we don't get behind in our studies." Florence is a dorm captain, which means that she is in charge of monitoring her peers: "When the girls are sick, before they go to the teacher, they come to me first. If someone is menstruating, I open up the store and give the girls the things they need."
Florence's good friend is Fiona. Also in P7, Fiona is 15 years old and her kind heart really shines through as she tells us how she looks out for other girls in need: "I like looking after the other girls. We always help each other – like fetching water from the bore-hole or well if someone needs to bathe. Because we all have a time when we need help during menstruation".
Through combating the barriers which can keep girls out of classrooms,  the 19 girls currently in Koch Goma's P7 class are, more than ever, able to excel academically. Both Florence and Fiona dream of becoming doctors one day, and we don't want any aspect of their gender to prohibit them and the 651 other girls at Koch Goma from getting the education they deserve! 75% of girls who enrol in P1 will fully complete primary school at Koch Goma, and we hope that with these improved facilities, this statistic will continue to improve each year.  So, as you can see, toilets and showers are well worth talking about!