African Revival needs YOU!
August 11, 2015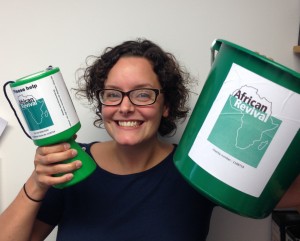 If you're a passionate, motivated and enthusiastic individual, then African Revival needs YOU! Team AR is looking for volunteers to help us organise and carry out successful bucket collections in local streets, stores and tube stations in October 2015. We will provide you with everything you need, including African Revival t-shirts and buckets. Once we know your availability, we will fit you onto a rota and give you a full introduction to collecting.
Shifts are available from 7.30am-6.30pm for tube stations, 9.30am to 6.30pm for supermarkets, and 10am-4pm for street collections:
Tuesday 6th October – Sainsbury's Kingston
Tuesday 6th October – Vauxhall Tube Station
Thursday 8th October – Brixton Tube Station
Wednesday 14th October – Sloane Square Tube Station
Tuesday 20th October – Highbury & Islington Tube Station
Monday 26th October – Pimlico Tube Station
Monday 26th October – St John's Hill, Clapham Junction
Wednesday 28th October – Richmond High Street
Thursday 29th October – Oxford Street
Friday 30th October – Hammersmith Tube Station
What does it involve?
Attending street/store/tube collections and collecting money from the public to support African Revival's work
Helping recruit other volunteers e.g. family, friends, students
Counting and banking cash
Supporting the publicity of the collection by liking/sharing posts on social media
Don't fret if you haven't done this before as no experience is necessary. However, this role would suit someone who is looking for short term volunteering experience, who enjoys talking to members of the public, has good organisational skills, is happy to speak to other volunteers on the phone, and is good at cash handling. An interest in international development and education would also be a bonus. Most importantly, volunteers should be enthusiastic and organised.
If you are interested in getting involved, email us at info@africanrevival.org
We look forward to hearing from you!