School Demonstration Gardens
Our 'School Demonstration Garden' project ties education and livelihoods together, and is one of African Revival's core areas of expertise. Our intervention seeks to address two interlinked issues – low quality education at a primary level and food insecurity compounded by poor agricultural productivity.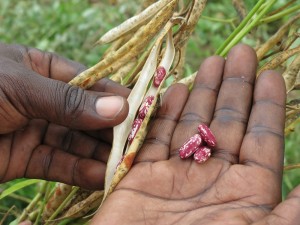 Why the School Demonstration Garden project?
Agriculture continues to play a critical role in the Ugandan economy, employing around 82% of the national workforce and accounting for over a fifth of Uganda's GDP. Low yields and inefficient agricultural practices leave households vulnerable.
The reliance on agriculture and low food security has an impact on the quality of education provided in primary schools. Although enrolment at schools has grown significantly (standing at 110% in 2011), pupil attendance and a lack of feeding schemes mean that the quality of education received is low. Even after the introduction of free Universal Primary Education (UPE) in 1997 by the government, parents struggled to contribute towards the learning of their children. Children therefore go hungry while at school, a major factor as to why Uganda has the highest school dropout rate in East Africa. The dropout rate of children from schools in northern Uganda is 37% compared to the national average of 13%. Pupils often miss school to help their parents on their farms, or are sent home as parents are unable to pay fees imposed by informal fee structures.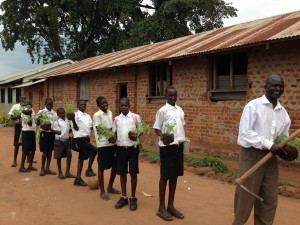 When children do attend school they often attend all classes without receiving a midday meal, affecting concentration levels and learning retention, and academic results in northern Uganda lag behind the national average. This is in part due to the post-war setting and legacy of the Lord's Resistance Army (LRA) insurgency. Land disputes for those returning from Internally Displayed People's (IDP) camps heighten the impact of poor agricultural productivity, and the effect is still shown on school's performance. Our project seeks to address these complex issues.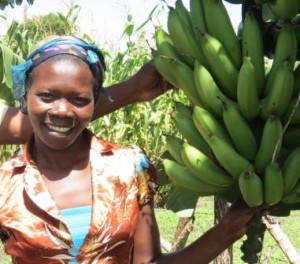 How does it work?
Initially, our field officers would work with the District Education Officer to identify and select schools to implement the project within. Once the schools have been selected, the Head Teacher, the School Management Committee (SMC) and community members would be involved in selecting a site for the garden in the school grounds. Working with these stakeholders the field staff would then choose appropriate crops for each group, followed by preparation of the land and training on cultivation.
At all school locations, African Revival works with the community to create farmer groups comprising of 25-30 members who will work with the school on the demonstration garden, attend weekly meetings and receive practical training by African Revival field staff. We set up Village Savings and Loans Schemes at the meetings, which allow parents to save for school fees and borrow money to expand their home businesses. African Revival also aims to secure gender balance within the farmer groups and working closely with the District Education Officer to select suitable schools for this project.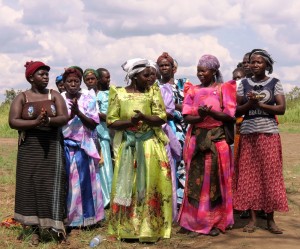 After the first harvest (two per year), the groups will then distribute their profits from the yields – with linkages to local suppliers provided by African Revival. Typically, 30% is given back to the school where the school, the Parent Teacher Association (PTA) and SMC decide how it will be spent. Previously, they have used it to provide school meals, subsidising fees for the poorest pupils,  providing scholastic materials, constructing  latrines and buying solar panels; another 30% is kept as group development fund and the remaining 40% is shared among group members.
The model uses the primary school as a learning site but the goal is to ensure that the agricultural skills from the school demonstration gardens is also utilised by the farmers at their homesteads. To achieve this, the initial group of up to 30 members in Year 3 will be split into two clusters, who in turn will impart their knowledge within their individual villages. Year 3 has a focus on sustaining the impact by ensuring that individual farmers are now fully utilising the new skills in agriculture.
The project has the following key results:
Creating stronger links between parents and schools leading to increased enrolment, attendance and academic attainment. Children are also learning practical agricultural skills.
Increasing agricultural productivity both at the school garden and home gardens
Establishing linkages between farmers and markets
Increasing food security and nutrition
For these projects to work, African Revival relies upon the support of parents, teachers and school management, as well as entire communities. Good relationships with a variety of local community members are essential to the success of our work and to the sustainability of our projects.
Our work in this area
African Revival has a strong track record of implementing demonstration gardens across 3 districts in northern Uganda (Nwoya, Abim and Agago districts) since 2011 with funding from EU, UNICEF and SNV.
We are continuing to work in Abim and Agago with funds from SNV (Netherlands Development Organisation)  and are thankful for this continued support. 
We have recently been awarded funding from Bestseller Fund to implement our Schools Demo Gardens Project in Amuru District over a three year period, working with 15 government-aided primary schools to set up demonstration gardens. We are very excited about the partnership with Bestseller Fund – work on this project began in February 2015.