Volunteer Interview – Cheryl
June 25, 2015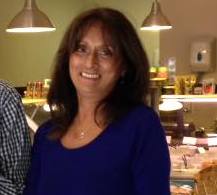 Meet Cheryl, one of our lovely collection tin volunteers!
Cheryl is a Hampton resident who has made a fantastic contribution to African Revival over the years. As well as helping to look after collections tins in the Hampton area, she has also been actively involved in our Schools Linking Programme.
How long have you been volunteering with AR?
Since 2007
Have you ever volunteered before?
No
What made you get involved with AR originally?
My daughter was working as an intern at AR for a short while
What kind of activities have you been involved in at AR?
Anything from stuffing envelopes to Schools Linking, to helping to man the stalls at fairs to helping look after collection boxes
What's the best thing about working with AR?
I have seen the way the money is used to build new schools, latrines, pay for teacher training and supply fresh water
What's the most challenging thing about working with AR?
The general public don't realise the good work that is done by this small charity so we don't always raise as much money as is needed