Robson's Piggy Bank Butchered by Too Much Cash!
June 24, 2015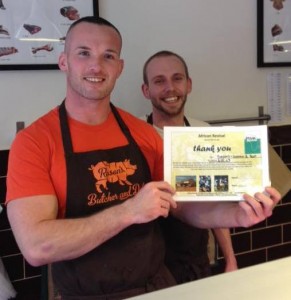 African Revival has had the privilege of generous support from local business Robson's Butcher and Deli, for a number of years. But we were stunned to hear this week that customers had raised so much cash (a whopping £112.63!) for us recently that their, usually sturdy, glass piggy bank had smashed to pieces!
To thank Robson's and their customers for their fantastic support, African Revival volunteers and Hampton locals David Williams and Cheryl Edwards took the opportunity to present the butcher's with a personalised fundraising certificate earlier today.
Norma Henning, co-owner of Robson's, commented; "we just like to support local charities and our customers are always leaving us their change".
We would like to take this opportunity to give a huge thank you to all Robson's staff and customers for continuing to support charities in the local area – and to apologise about the pig! Hopefully next time it will be less smash, more cash.
This year, we're hoping to raise over £700,000 to fund our work supporting schools in northern Uganda and southern Zambia – so every donation helps. Can you help our fundraising efforts? Donate here!