Teacher Profile: Meet Mondella
September 9, 2015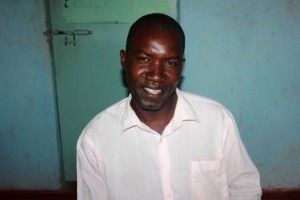 Here at African Revival, we absolutely love meeting brilliant and inspiring teachers! Mondella, from Inkumbi Basic School, is one such teacher.
Mondella is originally from Mongo, a town in Zambia's western province, but moved to Livingstone (southern province) in 1997 to study for his teaching certificate at Livingstone College of Education. Mondella has now been a teacher for fifteen years, and joined the teaching staff at Inkumbi Basic three years ago. Mondella lives on the school compound with his wife and children who attend the school. He has an 11-year old son, Naromindilla and twin daughters: Sepiso and Seveso who are six. Naromindilla is in grade 7, whilst the twins are currently in grade 1 and are taught by their mother, Natala, who is also a teacher. When your mother is your teacher, we're sure that the old "the dog ate my home-work" excuses don't really fly!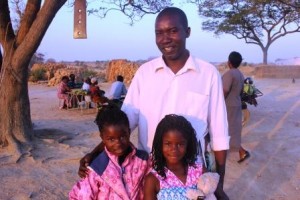 Mondella currently teaches grade 6, and also teaches maths and science to students in the upper basic section (secondary) of the school. Mondella actually entered the teaching profession because he was so inspired by one of his own secondary school teachers: "I used to really admire my physics, chemistry and biology teacher; he was my role model, he taught me so many things and he was just a genius because he had so much knowledge! He encouraged me a lot, and I wanted to be like him." Just like his own teacher, Mondella likes "seeing children learn things they never knew before, and seeing them develop as individuals and as peers, it really brings joy to me". One of the reasons Mondella loves seeing his students eager to learn is because he knows just how valuable education is, and what it can help people achieve: "(education) is so important, and the good thing is that it doesn't choose who you are- whether you are rich or poor, as long as you can study, you can improve your life and move forward. You could be poor but if you have an education, then you can work your way up- a farmer's son could even become president!"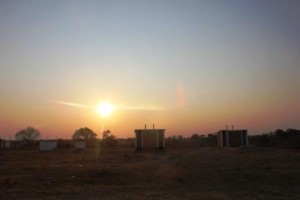 However, it can be challenging to give the children at Inkumbi the quality of teaching they deserve as the school struggles with over-enrolment and under-staffing. Although Mondella tells us that he tries his best, managing large classes is hard, and ideally he would like to divide the classes up, so that he can give individual children more attention. Although the school has its difficulties, the pupils still enjoy and benefit from their learning environment: "My pupils enjoy learning; they like school because they are learning new things, and they are able to socialise with their peers. They have time to play so they like it here." Mondella hopes that his pupils will continue to enjoy school so that "they will complete their education, and they might be employed or self-reliant due to the knowledge which they have acquired here at school."
We think Mondella's pupils are very fortunate to have such a passionate teacher, who works so hard to instil a love for knowledge in his students. We're sure that, just as his teacher inspired him, Mondella has inspired many children over the years to pursue excellent vocations!