Meet Trainee Teacher Siatwiko Chipo
September 8, 2015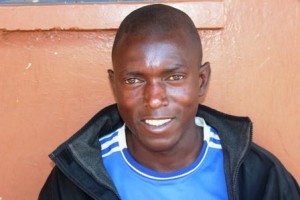 Siatwiko Chipo, 23, is a teacher at one of our partner schools: Musebela Community School, located in Zambia's Zimba district. Chipo lives with his mother, his wife, his five-year old son Enoch and his baby daughter, Hope. The family live in the town of Musebela, around 5km from the school, which Chipo walks to everyday. Chipo is currently studying for his teaching qualification at Charles Lwenga Teacher Training College, which he is really enjoying: "I am very pleased with the course and I am very, very happy because it is giving me more experience. Since I started at the college, I have improved in terms of teaching because I am using better methodologies".
Chipo has been a community teacher ever since he left secondary school in 2008, having completed his Grade 12. The community in Musebela saw the potential in Chipo and employed him as a teacher at the local school. As a young man, Chipo told us that "I saw the big problems that the community faced; there were many challenges because the government did not send any trained teachers at Musebela Community School. As I saw those problems, I decided to be a teacher. I was very interested to train as a teacher but I didn't have money to go to college, but fortunately I found African Revival [which] has assisted me to train at Charles Lwenga."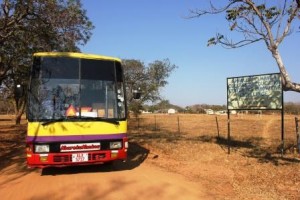 Chipo has been teaching at the school for seven years now, and is experienced in teaching different year groups, from nursery level all the way up to Grade 7. In his classroom (built by African Revival several years ago), Chipo currently teaches 10 girls and 13 boys in Grade 6, who are performing well. Chipo loves his job, and particularly enjoys teaching mathematics. However, the most rewarding part of his job is "watching the change in the level of the young ones; to see them going from a low level of knowledge and ability to really do well academically – that makes me so happy".
Chipo has high hopes for his pupils and is motivated to "continue assisting them so that one day they can become teachers, or doctors, or whatever they hope for. " This is one of the reasons that Chipo is such a motivated teacher because "it can change pupils' lives, especially those who are unprivileged; an education can raise their standard of living when they are older because they will be able to get a job more easily. If you aren't educated, it is very difficult to survive. Without education, you really have no hope so I want to make sure my pupils have hope for their future".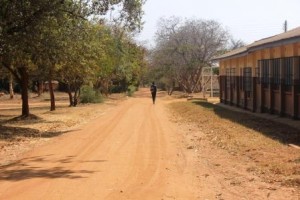 In spite of his hard work, Chipo, like most community teachers, faces challenges on a daily basis. Notably, he hardly ever gets paid because the local community struggles to pay school fees. Additionally, his school lacks teaching materials which the government now requires schools to have. For example, a primary reading programme has recently been introduced but it requires expensive equipment like computers, which the school cannot afford. However, good news will soon be coming Chipo's way: once he qualifies as a teacher this coming December, Chipo will be paid by the government which means that Chipo and his family will enjoy a well-deserved stable income!
Chipo is very happy to have had the opportunity to formally train as a teacher:  "I fail to find the words to thank you because really you have assisted me a lot in my life and without you, it would be very impossible for me to go to college because I live in a poor family in the village." It has been our absolute pleasure to support hard-working and dedicated teachers like Chipo through their training, so that they can be the best teachers possible to their young pupils!