Meet Trainee Teacher Mweetwa Erocious
September 4, 2015
In Zambia, one of the community teachers we are currently sponsoring through a teacher training course at Charles Lwenga Teacher Training College is 27 year old Mweetwa Erocious from Kalomo district, located in the country's southern province.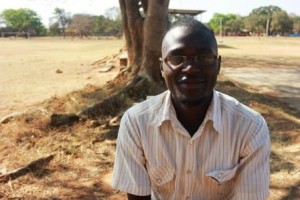 Erocious left school in 2009, after completing his Grade 12. Although he was keen to become a teacher, he lacked the financial support to pursue further study and his confidence was impacted by a stammer so, "after I finished school, I was unemployed and stayed at home for three years".  After this challenging spell of unemployment, Erocious overcame his speech difficulties to catch his first career break as a community teacher at Habulile Basic School, where he taught for one year before moving across to Habulile Community School.
Erocious has now been working at the school for two years, which is 4km away from his home in Kalomo where he lives with his extended family. He currently teaches Grade 1 and Grade 4, juggling these two teaching responsibilities by teaching his 20 Grade 4 pupils in the morning, before holding lessons for his 24 Grade 1 students in the afternoon. Despite this full-on workload, Erocious enjoys most aspects of teaching, especially teaching maths and science!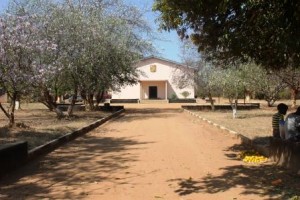 Erocious tells us: "I like teaching because it is my career.  Teaching is the foundation of everything, so I have that heart to help those small learners because some of the teachers we see, they don't care about those young ones. So, I have that heart to help them so that's why I wanted to become a teacher". 
Although he loves his job, being a community teacher presents some real difficulties: "There are no payments, as a community teacher, we receive nothing. At my school, the classes aren't in good condition. The classes are incomplete, and we only have two classes in total. We don't really any teaching materials so we have to improvise. "
As you can tell, being a community teacher here in Zambia is no easy career route, but Erocious is dedicated to his chosen profession because "education is important as it is a bridge to everything in this world. If someone has never been to school, maybe he or she will have difficulties to contribute to their society. So, I want to teach so my pupils can be problem solvers, and perhaps even have their own businesses one day."
Just as Erocious has big dreams for his pupils, we have been delighted to help make Erocious's dreams of formally training as a teacher come true; he told us: "I am really appreciating your help because I never knew that one day I could go back to study. I have no parents because they died, so I really appreciate the help."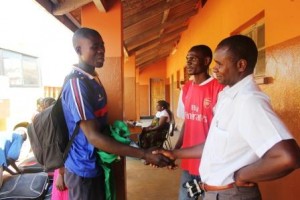 Although Erocious has been working extremely hard during the course, he has also been enjoying his studies, "because it has helped me; it is so interesting. I understand what our lecturers teach us. Teaching is  a profession, so there is no way I can be a good teacher without studying teaching, and learning how to teach properly and how to handle a class. I enjoy being here, because I am learning so much- now I know how to take care of my class."
Indeed, Erocious is already implementing everything he has learnt into his classrooms, especially the practical elements of the course: "My class has improved since I started the course; now I can improvise when some teaching materials are not available. So, at school there is no chalkboard, we can use charcoal instead. If we have no duster, we can take other cloths to wipe the board instead."
Erocious will complete his teacher training this coming December, and will recognized by the government as a fully qualified teacher, which will enable him to be paid by the state. We wish Erocious the best of luck as he takes his final exams in the coming months!