Meet Sarah: business woman in the making !
November 20, 2015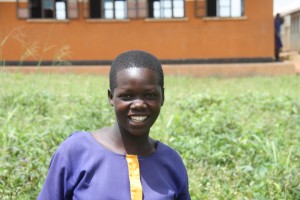 Sarah Aber, 14, is Vice Chairperson of the Pupil's Entrepreneurship Club at Otwe Primary School Demonstration Garden. Her role varies from taking minutes at meetings, to mobilizing absconding club members and even organizing meetings herself if the chairperson is absent:
"My vice-chair responsibilities are that I should ensure that things are in place and going on as it was planned."
The role is giving Sarah the opportunity to put all she has learned in the African Revival trainings into practice. Indeed, taking account of supply and demand, she plans to sell the group's bean crop very soon because beans are currently scarce in Amuru district due to the drought – so Sarah is already anticipating that they will fetch a higher price at market:
"What we are going to do, we are going to sell our produce per kilo for 5,000 sh (90p, 10kr), because we understand that these beans are a bit scarce in the market […]
we want to have that opportunity so that we get more money from it"
Furthermore, Sarah has already helped to secure transport to the market in Gulu by negotiating to use the headmistress's motorbike; the group will then use the profits generated by the sale of their bean crop to refund petrol costs.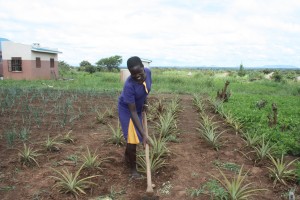 Sarah's improved skills in farming, agricultural management and marketing have also sparked in her parents a greater interest in their daughter's education:
"This thing [SDG] is making my parents actually visit the school, because the knowledge I have now has motivated my parents to come and see what I am doing at school, and now they are happy, and actually in a week now, my parents can be here twice or three times […] checking on my report."
And they are sure to be pleased. Sarah is a very good student, always placed in division two (meaning she scores approximately 80% in tests), and has ambitions to become an English teacher in the future. Sarah's advice for other girls her age? To surround themselves with good friends who are a positive influence. And the knowledge she wants to pass to her peers is equally useful:
" I'm going to teach them how to plant beans in lines and also how to manage bean production, right from planting up to investing; that's what I am going to teach the rest."
Sarah lives three kilometres from Otwe Primary School with her mother, father and six siblings. The family cultivates a range of crops, including groundnuts and rice, and has recently diversified further into growing vegetables.
The knowledge Sarah has brought back home from the SDG and Pupil Entrepreneurship Club is not only boosting the productivity of the family farm, but also teaching Sarah's parents how to properly manage and market the surplus in order to generate a good profit:
"Sarah told us […] the importance of early planting which she said if we plant our crops early, we will be able to take the advantage of ready markets"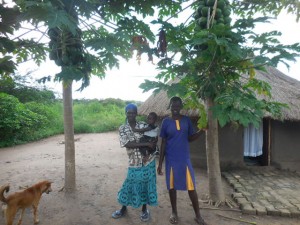 Sarah's mother, Christine, is particularly enthusiastic about the skills that she has learnt from Sarah:
"We learnt from our daughter the marketing technique […] whereby we stock our produce as a group (with neighboring farmers) in bulk and later sell […] This is very good technique simply because in a group, there's good bargaining power and no buyer can cheat us as compared to the way we used to in the past."
Christine also credits Sarah with teaching her about good post-harvest crop management in order to avoid the losses that the family used to suffer. This includes how to dry, sort, store and handle different crops.
Moreover, Sarah has brought back new agricultural methods, teaching her parents how to plant in rows, as well as "the advantage of keeping our garden clean and weed free" in order to prevent pests. The new kitchen garden, situated right next to her cooking area, has also given Sarah's mother a more efficient way to dispose of the kitchen refuse.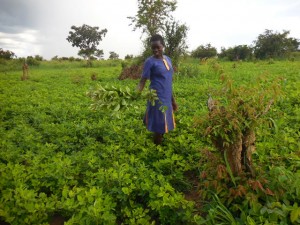 Christine hopes that these new business and agricultural skills allow her children to "take my footsteps in farming […] and make them to be self reliant and fruitful in the near future."
But she is also adamant that Sarah should continue her formal education at secondary level and apply her new skills to succeed at both farming and school, and in the future realize her dream of becoming a teacher.