Construction Update: Juba Road Primary School
May 20, 2015
We were happy to share last month that African Revival is building a teachers' house at one of our partner schools, Juba Road Primary School.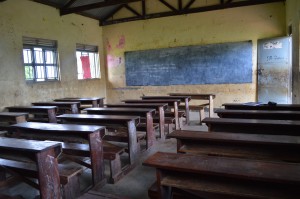 As its name suggests, Juba Road Primary School is located just off Juba Road-one of the main roads of Northern Uganda-just 30km from the border of South Sudan. The school is therefore one of the furthest away from our Gulu office, but it is a school that we have been greatly committed to for a long time. Over the past few years, African Revival has built a classroom block, latrines, and a girl'schanging room to improve upon the school's existing facilities.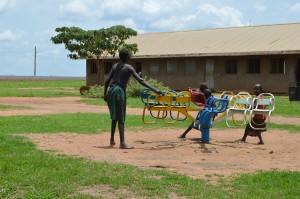 Many of the school's teachers live in huts near the school property or in nearby villages but upon completion of our current project, Millie-Grace, the senior woman teacher and Richard, the deputy head-teacher, will be able to live in comfortable accommodation at the school. Their close proximity will help them better support their students, and be more available to tackle issues which might cause students to drop out of school.
We broke ground on the work site on the first of April this year, and our construction coordinator Vincent has been closely monitoring the building's progress since work commenced. Here at African Revival, we care passionately not just about the children we work alongside, but also the communities in which they live and so, keen to inject in the local economy, our contractors have hired local labourers, and sourced-where possible-local materials to build the house. Under the expert supervision of our fantastic contractors, Robert and John-Paul, the building team have now laid the foundations, the floor, and have started building the walls- which are now window high, so the structure is rapidly taking shape.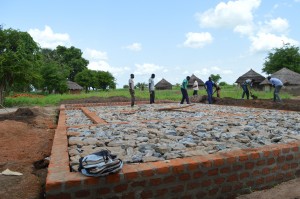 This progress is particularly impressive as the construction team have certainly faced challenges as they complete this project- notably, persistent rain fall has made access to the school difficult, and transporting materials has been no mean feat!
However, the team's hard work will not be in vain; as part of African Revival's memo of understanding with Juba Road Primary School, the school has established a maintenance committee who will be responsible for looking for the building, so that it stays in tip top condition for many years, and can benefit as many teachers as possible. The maintenance team of five includes teachers, and parents who are eager to maintain the school's facilities so that children can learn in a clean, functioning, and welcoming environment. We hear that the team are hoping to plant flowers around the new house, to create a truly inviting atmosphere at the school!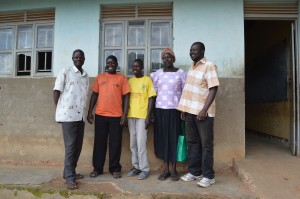 We hope that in spite of the heavy rains, the building team continue to enjoy building this new home for Juba Road's committed and dedicated teachers. Don't forget to follow us on Twitter and Facebook so that you can track the progress of all our projects!