Jumpstart! Update – ECD Training, Round 2
May 18, 2015
As we launched our Jumpstart! Programme in February, we sponsored ten pre-primary teachers who had never received formal training in Early Childhood Development to attend a teacher training course at Gulu Core Primary Teachers' College. During the week-long course, teachers learnt about the principles of Early Childhood Development, and received support in lesson planning.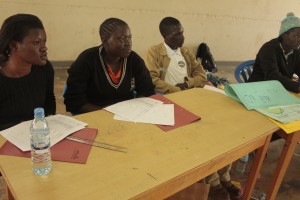 For the past three weeks, it has been half term here in Uganda. However, our ECD teachers were still working hard, as they attended their second phase of training, which was more creative and practical.
In particular, the teachers enjoyed designing new learning material for their classrooms, to better engage their young pupils.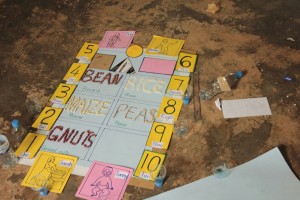 Creative juices flowed as the teachers created textured posters, using beans and pulses – we are sure that the children are going to love the posters which will help them learn basic food items.
The teachers also learnt how to utilize local materials for learning resources: collecting brightly coloured bottle lids to use as counters is cheap, but extremely effective. Introducing these new posters and materials is a slow process but surely transforming the nurseries of African Revival supports schools in offering children a dynamic and exciting learning environment.
We caught up with Petra Atto, who we introduced several months ago, to find out how these changes have helped her K2 class at St Kizito Nursery School:
 Are you enjoying this second round of training? Yes, I am enjoying it. The most helpful things I am learning are writing and developing teaching learning aids. As we attended a one day training before in this area, I now can write much better with much ease due to practice. My hand writing has also generally improved.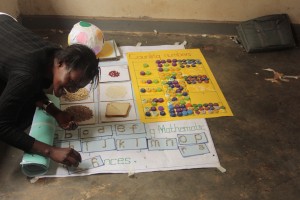 In materials
development, I struggled with drawing, but with practice, I can now draw meaningfully, and can use various materials to make learning aids. I can guarantee that term 2 will be more successful in terms of performance and also create an everlasting impression on the children in terms of my teaching methods.
How did you find your first school term? The term was good. Before the training, I had no clue about ECD. I did not know how to scheme, plan or write a daily routine, and I feared opening up to my colleagues about this. But the training built my confidence; I can now confidently teach my lessons and interact boldly with my colleagues. I also learnt more about rhymes at the college; this has helped me to develop closer links with my pupils and also build more confidence in myself.
Are you pleased with your pupils' progress this term? At the beginning of the term, the pupils could only sing numbers and letters without recognizing them. By end of term, they could write numbers 1-15, and could identify as well as match them. The children can also identify and recognize letters from A –G.
Also before my training, the children were so timid and scared of adults. The love I showed them after the training gave them confidence in themselves and drew them closer to their teachers. They are now able to socialize well, with improved manners as also noted by the head teacher of the primary section who greatly appreciates the changes in the nursery section.
How are your pupils doing in terms of their overall development? My pupils are developing every day. They are now improving in reading and identifying numbers and alphabets. I also see a lot of positive changes in the behavior of the pupils. They are able to respond to commands and love school.
 What difference has having new posters/learning materials made to your classrooms? Teaching has become easy because children learn faster when they see and touch things. The presence of posters on the walls also enables for continuous learning even when I am not in class. It also made my classroom look beautiful, and more of an ECD class than it was before. During parents open day, the parents greatly appreciated having posters on the walls and think the quality of teaching has greatly improved.
What do you feel has been your greatest moment this term? My greatest moment was improvement in pupils' performance, good relationship with the pupils and their parents.
We are excited to hear how well Petra's students are doing, and we are sure they will continue to progress well next term. We wish Petra and teachers everywhere all the luck, energy and inspiration in the world as they begin a new term today!