Do Something Amazing for you, and for African Revival
November 9, 2016
You can still enter through the public ballot and be part of Team AR, but don't worry if you are unsuccessful as we have 8 guaranteed places.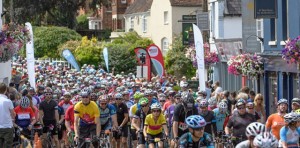 Celebrating the legacy for cycling created by the London 2012 Olympic and Paralympic Games, Prudential RideLondon-Surrey 100 starts at 06:00 in Queen Elizabeth Olympic Park, and then follows a 100-mile route on closed roads through the capital and into Surrey's stunning countryside. With leg-testing climbs and a route made famous by the world's best cyclists at the London 2012 Olympics, it's a truly spectacular event for all involved. The Prudential RideLondon-Surrey 100 finishes on The Mall in central London, shortly before 150 professional cyclists race in the Prudential RideLondon-Surrey Classic on a similar route.
More information about the race can be found on the Prudential website here.
If you think you've got what it takes to complete this incredible 100 mile race (and do some fundraising for African revival in the process) get in touch:
catherine.inch@africanrevival.org
020 8939 3190