Play into the New Year with our Jumpstart! playgrounds
January 27, 2016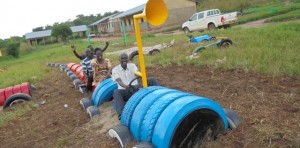 In 2016, we will complete the construction of four playgrounds in Nwoya District, as part of our Jumpstart! programme, which is implemented in partnership with East African Playgrounds, and funded by the UK Department for International Development's UK Aid Match grant, made possible by you – as the government matched all donations to our Jumpstart! appeal pound for pound.
The playgrounds reflect the local environment in northern Uganda, so they are familiar to the children. As well as the usual seesaws and swings, pupils will be able to ride model elephants, giraffes and bodas (motorbike taxis which are a common type of transport in Uganda). Plenty of excitement for your average school day!
The playgrounds will provide children with an engaging, stimulating outside space that will allow them to play, explore and develop in a safe environment. Learning environments make a huge difference to a child's learning, and we now know that stimulation in early childhood is crucial to brain development and school readiness.
Richard Ayella, our Education Programme Coordinator, told us:
"By providing an environment that encourages unstructured play, the playgrounds encourage children to think for themselves, thus gaining vital problem solving skills"
Overall, our goal is to improve the quality of nursery education in a holistic manner – by focusing on all aspects of a child's learning experience, both inside and outside the classroom.