Meet Maxwell!
January 27, 2016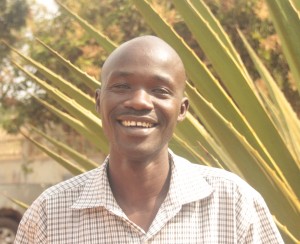 Maxwell joined African Revival in January 2015 as an Early Childhood Development (ECD) Monitor and is one of our staff implementing the Jumpstart! ECD Programme. Here, Maxwell gives us an insight into his work with African Revival:
I joined African Revival because I wanted a new job with opportunities to learn and grow. African Revival, and my position in particular, is an excellent match for my skills in promoting access to quality education for vulnerable children.
I have many different responsibilities in my role. I conduct community sensitization to raise awareness about the Jumpstart! programme and the importance of early childhood development. I am the link between the community, nursery schools, African Revival and the District Education Officer. Furthermore, I support the nursery teachers in lesson planning to ensure that the quality of education in our Jumpstart! nursery centers remains high.
The best thing about African Revival is that the organisation does not only help children and the community, but it also does a lot for staff development. I also enjoy being with all the amazing staff who work together as a team. This makes my work easy and enjoyable.
I love so much that this work with African Revival is giving me the opportunity to interact with disadvantaged children and help them realise their full potential.