News Update: Empowering Teachers as Changemakers
February 3, 2016
Elijah (pictured left) was the first boy in his village in rural Uganda to go to school. But seven years later, on the last day of Primary School, Elijah was unable to write a paragraph, read anything more than the simplest of sentences, or add and subtract. His father, dismayed that his son had failed so dramatically, walked to the school to visit the teacher and demand some answers. He said, "you failed me and you failed my son. I thought his life would be better than mine if he had an education". And the teacher replied, "the son of a donkey will always be a donkey".
Such bad teachers are of course an anomaly in Uganda. But this story is a reflection of a problem facing many children across the world: lack of quality education in the classroom that leads to many pupils leaving primary school without being able to read, write or solve a simple mathematical problem. Quality education was also set as one of the new Sustainable Development Goals by the United Nations, who have identified that, although the number of children going to school has increased, levels of literacy levels in many countries have actually deteriorated.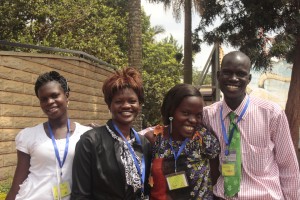 It is this problem that the Teacher Changemaker network in Uganda, led by STIR Education, aims to address. The network is designed for teachers to share ideas and innovations, as well as to provide a source of motivation for participants in what can be a difficult working environment. African Revival's Jumpstart! team has been helping STIR to manage the network in Nwoya district, and recently accompanied 28 Teacher Changemakers to the annual STIR network summit in Kampala. Held in the 'Wonderland' complex in the grounds of the International University of East Africa, over 1,000 teachers attended the summit to receive certificates attesting to their hard work as Changemakers and to listen to talks by several keynote speakers, including government representatives from the Ministry of Education and Ugandan motivational speaker Fagil Musa Mandy.
The speeches on the day were varied and inspiring. Many of the speakers focused on the characteristics of a Changemaker, highlighting that change first starts with the individual and that the teachers must make an effort to foster qualities such as discipline and efficiency in themselves as a prelude to change in the classroom. The Commissioner of Private Education emphasised the necessity of good habits: "If you want to be change agents, you must change yourselves first. Make it a habit that whatever God has given you to do, you do it with all your heart, all of your strength and all of your love. Learn to have good habits of time management, of working, of not missing classes."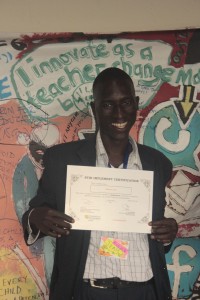 Gino (right), a nursery teacher from Purongo Hill Primary School in Nwoya district, reaffirmed this lesson after the conference: "The change begins with me the teacher. If I want to teach others, I really must have the courage to identify where my own weaknesses are, so I can begin a new journey of growth as both an individual, and an educator"
There was also an emphasis on rebranding the role of the teacher. In Uganda, the teaching profession has lost its prestige and is considered by many an undesirable role due to the meagre salary and often isolated posts in rural schools. But STIR wants to challenge the negative perceptions of educators and promote teaching as a noble, valuable profession – and teachers as powerful agents of change.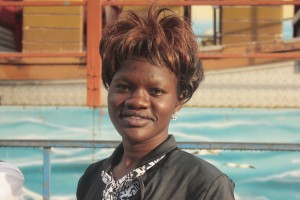 The summit was a perfect opportunity to reaffirm the values of the network and celebrate the hard work of the participating teachers to instigate change in their schools and communities. The Teacher Changemaker network encourages teachers to identify problems in their school and create 'micro-innovations' to address them – in collaboration with their fellow Changemakers, with whom participants can share, discuss and analyse ideas. Irene (left), a nursery teacher from Anaka Primary School explains the process: "One of us may ask, 'what can we do to help this child'. So we sit down and share together, and discuss what we should do? Everyone contributes their opinion and then we put the ideas together and work hand in hand to reach a solution. We first discuss, then problem solve."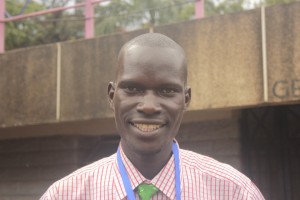 Sunday (right), a 22 year-old teacher from Lacek Primary School in Nwoya district, identified his pupils' home environment as a major obstacle to learning. Sometimes parents show little interest in their children's education and do not save the necessary funds to pay school fees and purchase scholastic materials. So Sunday decided to start a Village Savings and Loans Association (VSLA) for the parents: "My micro-innovation is that I am bringing parents closer to my school through a Village Savings and Loans Association. They come and save money together, and also monitor their children in class, which helps to improve educational performance."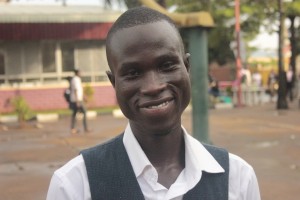 The network also encourages participation from local leaders, working across the system and targeting different layers of society to ensure that the approach is holistic, inclusive and instigates change at every level. Without 'permission to innovate' from parents and district officials, STIR Education CEO Sharath Jeevan acknowledged that their approach may not be effective. Stephen, a teacher from Nwoya central agreed: "Improving a child's learning is not the responsibility of only one person. It is for all stakeholders, like the local leaders, the parents, the teachers and everybody in the community."
However the purpose of the summit in Kampala was primarily to celebrate the efforts of the teachers themselves to bring quality education to the classroom. Fagil Musa Mandy encapsulated their importance to Uganda perfectly in his powerful speech, when he said: "It is teachers who help to make the child's dream clearer and let it grow. The only profession that opens hearts and makes them grow into flowers is the teacher".