Meet Bosco!
May 26, 2015
We are excited to introduce you to Bosco Onyai, one of our Agricultural Project Officers!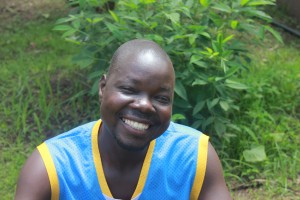 Bosco has been working with African Revival since 2014. Bosco is from the Nwoya district but moved to Amuru with his wife, his son (aged 5) and his baby daughter to join our Livelihoods team working on our school demonstration gardens programme.
Bosco attended agricultural college, where he obtained a certificate, and then diploma in Agricultural Practice, before working for several agricultural organizations including the Amuru District Farmers' Association. Bosco loves his job; his favourite aspect of his role is working in the field alongside the community- he has a real heart in particular for underprivileged and vulnerable communities.
Outside of work, Bsoco is an avid Manchester United football supporter, and enjoys getting to know older members of the community, to benefit from their wisdom.
Bosco, we are so glad that you are part of the team!