Kitgum – WASH
August 21, 2015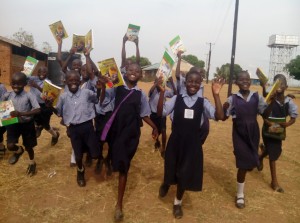 Established in 2002, Kitgum Core Primary Teaching College is a government-owned teacher training college with whom we have partnered to tackle issues surrounding girls' lack of attendance and consequently, their performance in school. In the Eastern Acholi region, keeping girls in school is a severe problem. However, recent studies show that it is much easier to keep girls in school for longer when female teachers are present to offer social and academic support to young girls; in most cases they inspire girls to remain in school. However, only 27% of primary school teachers are female.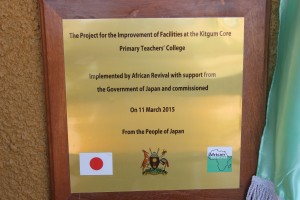 Our initial aim at Kitgum was to increase the number of female students in teacher training by 30%, as prior to 2013 there were twice as many male students to female students. We have been working hard to make the college a more attractive place to study for female students. Previously, the College only had sufficient accommodation for up to 52 female students in a college of 400 students at the time. As such, female trainee teachers had to sleep in classrooms, the library and at times, the shower block. That is why, in 2013, under the supervision of our fantastic engineer Vincent, African Revival began the construction of a girls' dormitory block, which accommodates up to 48 female students. Then in 2014, with financial support from the Japanese Embassy, we built another dormitory block to accommodate another 48 female students.
However, we have also worked hard to combat various hygiene and sanitation challenges to optimise students' positive learning experience at the college. The college's pit latrines were insufficient for the number of students, and their over-use meant that the latrines had nearly reached their capacity. Moreover, the boys' and girls' latrines were situated next to each other which exacerbated instances of harassment towards girls. As such, we recently built three more latrine blocks at an appropriate distance from one another: one for teachers, one for boys, and one for girls. These new facilities have minimized queues to the bathroom, and increased students' and teachers' privacy.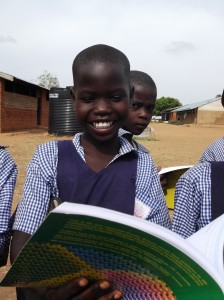 Furthermore, last year we built a girls' changing and washroom. Providing girls with safe, secure, and private spaces to change and shower, girls are less likely get harassed by their male counter-parts, and are able to better manage their periods. As such, whilst these facilities are practical, they also help to minimize drop-outs among female trainees. We believe that these facilities will contribute towards our goal of providing more qualified female teachers to teach in primary schools within northern Uganda, so that girls are less likely to drop out of school.
One trainee, Kay, told us: "I think that having these new facilities will help us, and enable us to be great teachers to a new generation". African Revival is thrilled to be able to offer budding teachers like Kay good facilities during their training to ensure that the young men and women at the college become motivated and inspiring teachers to young children across northern Uganda.