Jumpstart! Update – Agung Nursery School Profile
April 15, 2015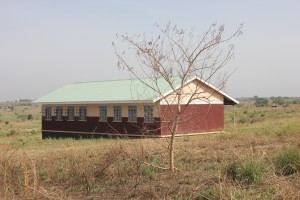 Agung Primary School's nursery school was established in 2013 by the local community. The school is easily accessible to children in the surrounding villages, as it is located on a tarmac main road, enabling children to walk to school in every season. At the school's entrance, orangey-red bricks have been strategically positioned to create a welcoming pathway to lead students, teachers and visitors into the school.
The nursery school is currently in a transitional phase; the original strucutre was recently dismantled, and a new larger one is now being built in its place to better accommodate the large number of nursery students. Whilst parts of the old nursery building have been recycled to be used for the new classrooms, the rest of the materials and labour are being donated by the parents.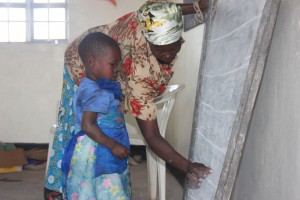 In the midst of this building work, Agung's nursery pupils are currently being taught in a newly built secondary school which is not yet open. The two rooms used by the nursery school are big, bright, airy, and clean. However, within these temporary classrooms, there is a lack of basic furniture including chairs, tables, and cupboards. Instead, children sit on a mat on the concrete floor during their lessons.
The K1 class, with over 70 pupils, is so large that two teachers – Oliver and Miriam – are needed in the classroom; one teacher conducts the lesson, whilst the other watches over the class and helps individual pupils with their work. The 63 K2 and K3 students study together in one classroom, taught by Dorcas who, as part of African Revival's Jumpstart! programme, recently attended an Early Childhood Development (ECD) training course.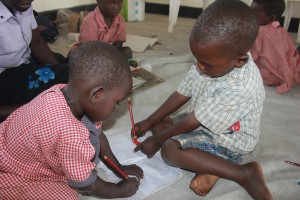 In spite of the minimal materials at their disposition, the staff are extremely committed to their students, and have tried to make the temporary classrooms as inviting as possible. They have put up hand-made posters, displayed their pupils' drawings, and use recycled materials including empty soda bottles to use as learning aids during maths lessons. Oliver told us: "I like making displays, making things bright for the children so that when we are marking books, the children are stimulated by what they see around them, and learn massively. However, we do need manilas, and colouring pens."
Caroline, in K3, told us that "I like singing and dancing; I like this classroom but it will be nice to go to our new school when it is ready".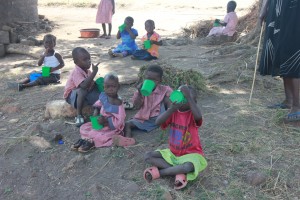 The children at Agung Nursery School commence their classes at 8am until 12pm, spending their mornings singing and dancing, before learning arithmetic, reading and writing.  At 10.30am, the pupils walk up the path towards the primary school, where they are served a hearty portion of sweet porridge.
One of the challenges in this school is that the parents of pre-primary school students frequently neglect to pay their children's school fees, which means the teachers have not been paid properly for several months, and many children are unable to attend classes until the outstanding bills are paid. However, Dorcas tells us "I love to teach, some teachers wouldn't stay because we don't always get paid, but I want the children to learn so keep coming." As such, as part of our Jumpstart! project, our Education Programme Co-coordinator Richard recently conducted a community sensitization meeting to highlight parents' responsibilities towards their children's education, and sought to motivate the local community to actively engage in their young children's learning.
Despite the challenges, the school is full of potential to help its nursery students thrive. In the coming months, we will be working with the school to provide much needed furniture, learning resources and teacher support, in order to offer children the best possible learning experience which will fully equip them to succeed in primary school when the time comes.