Jumpstart! Open Day – News Update
April 30, 2015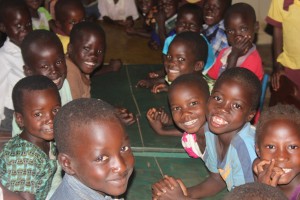 As part of our Jumpstart! Project, our education team have introduced open days in African Revival supported schools, where each term,  nursery school parents are invited to visit their children's ECD centres. During these open days, parents discuss their children's progress with their teachers, visit the classrooms, and find out about what their children have been learning. The Jumpstart! team is hoping that this new initiative will increase parents' involvement in their children's development, and forge strong relationships between parents and teachers through increased accountability with one another.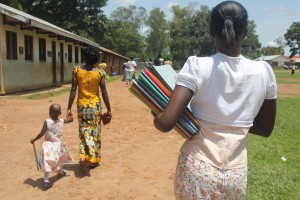 One school  we caught up with is Anaka P7 Primary School. Do you remember Irene, who attended ECD training in February? Irene, who is teaching the K2 class at the school, told us: "When I was at the training, I was so inexperienced but now, I just think teaching is the best thing! I love it so much; the knowledge I have gained from training, I am using it all the time. I know how to the control my class and I know all my students so well." Irene, who teaches 54 pupils, has been innovative in managing such a large class. "The children are doing great this term; they were too many really but I have divided the children into three work groups: lions, elephants and tigers.  Each group sits together, and completes tasks together, which helps me manage the students better."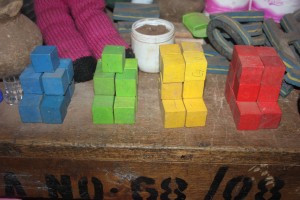 We were certainly impressed when we visited her K2 classroom during the open day, which Irene has transformed. The classroom is now covered in bright learning posters and alphabet flashcards which Irene made herself. Irene tells us that the posters are helping the children to learn, as they often sit quietly at look at these learning materials.  Irene has also created a "shopping area", where she displays learning props which she has gathered, such as counters, empty bottles, and pottery made by the children.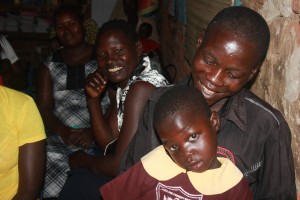 The students' parents were proud of their impeccable behaviour in the classroom, and their writing skills: this term, each student has learnt to write their own name. Joanne is one of the top performing students in Irene's class, and told us that she loves school because "It makes me concentrate and do well in exams.  I have learnt how to make pots, and now I know all the body parts which is good because I want to be a doctor."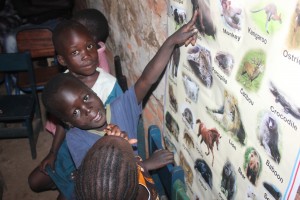 These open days have provided an invaluable opportunity for parents to track their children's progress, and admire their children's handiwork.  Sarah, who is the parent of Emmanuel, a K1 student at Purong Hill ECD centre, told us: "I have really enjoyed visiting my son's classroom, and actually seeing what he is learning. I can see now just how much the teachers do for him. I can tell that nursery school has been good for Emmanuel, because at home, he is always telling me about the things he is learning; he now knows the names of most household items".
Here at African Revival, it is a real joy to see children thriving in their learning environments, and we hope that children and teachers everywhere enjoy their well-earned half-term break this week, and come back refreshed, ready for a productive and successful second term.  Be sure to follow the progress of our Jumpstart! students right here on the website, and on our various social media channels!