Emily's Trip to Uganda
March 21, 2016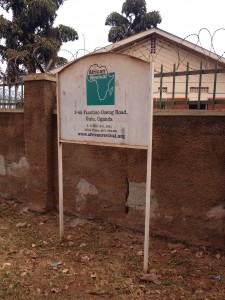 At the start of March, we sent our Fundraising & Communications Officer Emily to meet our amazing team in Uganda and visit some of our projects for the very first time. Here's how she got on:
Two weeks ago, I was lucky enough to travel to Uganda and see some of AR's projects first-hand. After a long journey via Dubai and then a 5.5 hour drive up from Entebbe, I finally made it to Gulu, had a quick dinner with AR volunteers Sophie and Cara, and then caught up on some sleep ready for my first day of project visits.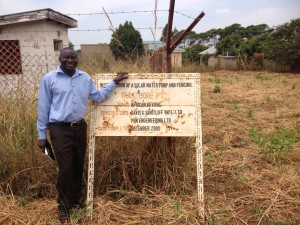 My first big moment of excitement was driving into the African Revival compound for the first time and finally meeting all the Uganda staff (who I already felt I knew from having worked with them remotely for such a long time!) After shaking lots of hands, it was off for the first visit of the day – Gulu Core Primary Teacher's College. We met with with some senior staff and heard about the impact of some of AR's support, like the water pump, solar panels and bee hives installed in 2008, as well as the supply of books in the college's library. The Principal stressed the importance of teacher and livelihoods training, and told us "small as you think you are, you are a very great organisation".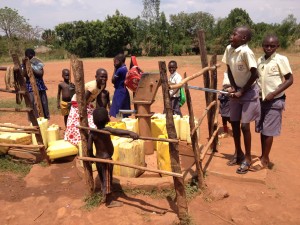 In the afternoon, we travelled a short distance to Cubu Primary School to see how some of AR's historic work was doing. It was good to see the classrooms blocks and library in good condition and being used well by the school community. We also stumbled upon a VSLA (Village Savings and Loan Association) meeting run by a group AR helped establish back in 2012 there! As you can see, the borehole remains very popular.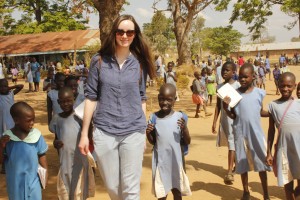 The next day, we visited 'the best school in Nwoya' – Koch Goma Primary School. With 1,200+ students, this school seemed huge and it was apparent that more classrooms are needed to cope with such a big intake. But the fact that so many want to go there (many students travel up to 8km every day to attend the school) shows just how well Koch Goma is doing, despite the challenges faced by many schools in this region. I was also encouraged to see how seriously the Headteacher took the issue of girls dropping out as a result of embarrassment connected with menstruation. He told us that as a result of the girls' changing room built by AR, girls aren't missing school because of their periods any more, which was great to hear.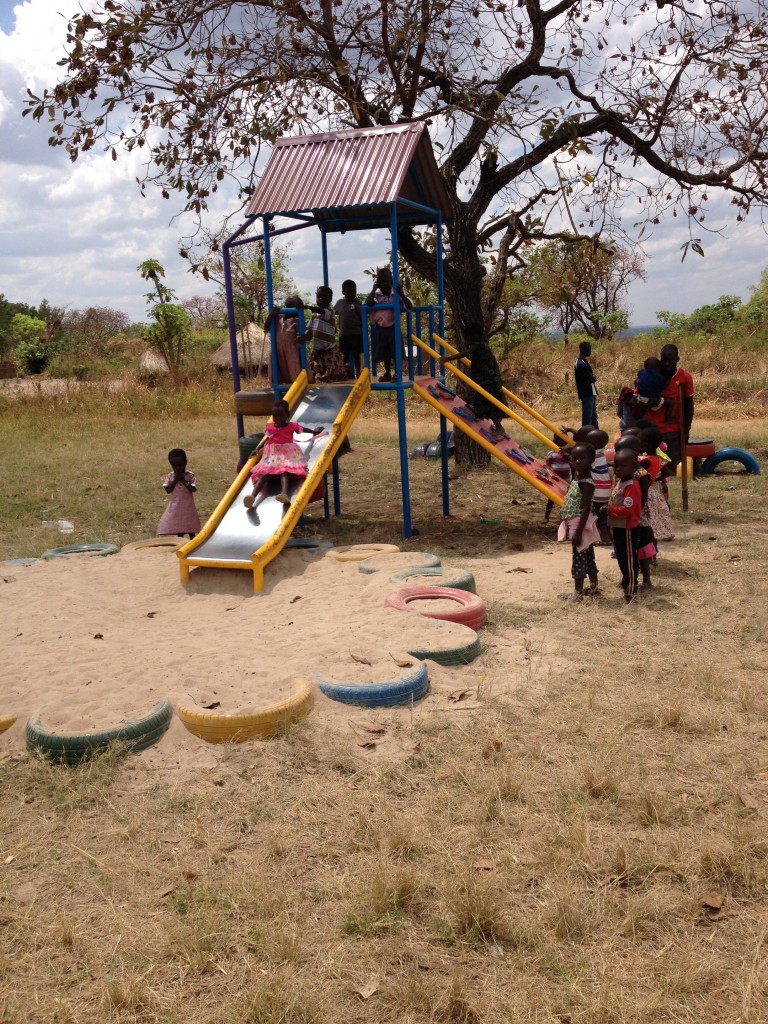 Next on the agenda was nearby Koch Lila Primary School. I immediately recognised the school from photos, with its brightly coloured playground recently installed as part of Jumpstart – our early education programme. We were lucky to be visiting just as a class of nursery students were lining up to take turns on the slide! It was clear that the children loved the playground, but it was also really interesting to hear from Richard, AR's Education Programme Coordinator, about the importance of play, not just for the sake of fun, but for a child's physical and mental development. As we travelled around other schools in the region during my visit, I was amazed at the big difference in confidence among children that had attended nursery before starting school, and those that had arrived straight to primary school with no prior schooling at all.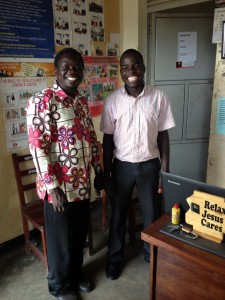 One of the schools I had been most excited about visiting was Lutuk Community School, as I'd heard so much about their inspirational Headteacher, Walter, who took on that role at the age of just 19. Although there is still a lot of work to be done at the school, Walter and the community have achieved a lot, which is reflected in the school's recent improvements in enrolment and academic attainment – in 2009, the school had just 64 students. Now they've got over 600! AR has built a classroom block and latrine at Lutuk already, and is currently helping to train 3 of the school's teachers to improve the quality of education offered – we're still looking for the £1,733 that will send them through the third year of their training. Do get in touch if you'd be interested in supporting the school with training their teachers in this way.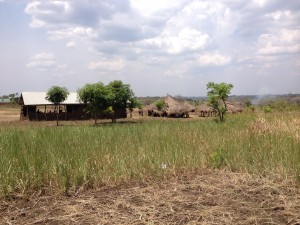 The next week, I met another very young (but equally as inspiring!) Headteacher – Sunday, who runs Lacek Community School in an incredibly remote area of Nwoya District. Here, 4 year groups are housed in temporary structures and there is just 1 desk for every 4-5 students. The school has no electricity, no teachers are resident on site and there are only 4 latrines for the 300+ students. Despite the difficulties, parents at the school are making bricks which they hope to use to build a new classroom block. The teachers are similarly dedicated, doing their best to make learning aids out of re-useable materials and many keep coming to work even when parents can't afford to pay them. Sunday told us that "without them, the school would collapse".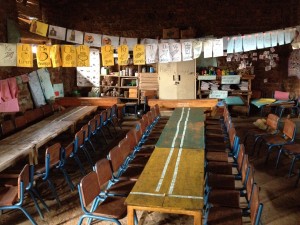 One of the biggest and oldest schools I visited was Anaka P7, founded in 1938 and currently teaching well over 1,000 students. Despite a huge thunderstorm battering against the office's tin roof and making it almost impossible to hear, we were privileged to spend some time with Anaka's Headteacher Lily-Rose. She emphasised the importance of girls' education and told us with pride of the challenges the school has overcome in the last few years, from high female dropout rates to limited teaching resources and poorly furnished classrooms. Although the school still needs things like more teacher housing and more school staff, it was great to see a school that is consistently improving in what it is able to provide – all with the continuing support of a dedicated school community; parents, teachers and students alike.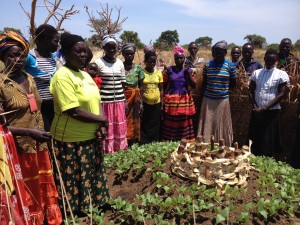 I spent my last few days in Uganda visiting some of our school garden projects, which have been in operation for just over a year. At each school, we were warmly welcomed by parent-farmer groups who told us about the history and successes of their school garden, and it was amazing to hear how well parents had come together and how much they had been able to grow and sell, even with problems caused be erratic weather as a result of climate change. All the groups I visited had managed to make enough money to contribute to the development of their school, and many had big plans for the coming harvest season, with one group even coming together with their own money to rent a tractor and plough more land.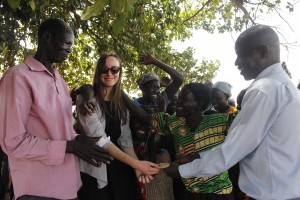 It was also lovely to see the warm relationship between these school garden groups and the AR team who are supporting them – at Olinga Primary School, Agricultural Volunteer Patrick introduced us to every member of the 45 or so strong group by name, and had an anecdote for almost everyone! At the end of that visit, I was honoured to be invited to give the Headteacher of the school 30% of the profits from the school garden, on behalf of the parent-farmer group. This will be put towards some of the developmental needs of the school, such as girls' latrines and more classrooms. Much to my surprise, the community then presented me with my very own live rooster! Sadly, I had to leave him behind when I flew home…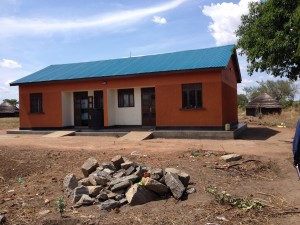 My last visit was to Juba Road Primary School, up near the border with South Sudan. AR has supported the school with a lot of its infrastructure, but most recently with a brightly coloured teacher's house which means more staff can live at the school, providing extra support to students and even protecting the school site from vandalism at night. This school in particular really drove home the whole purpose of AR, as it's a school that is now heading down a strong path to being able to provide quality education without the need for our support.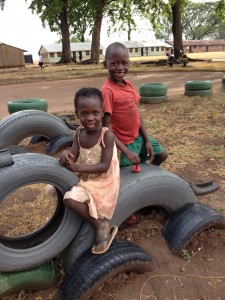 I'm confident that one day all the schools we're currently supporting will be well-equipped to provide all their students with the tools they need to secure a high quality education and a bright future (independent of external assistance), and I look forward to seeing how they all continue to grow and improve over the next few years.
Thank you so much to the AR Uganda team for being so welcoming, and to all the staff, parents and students I met in Gulu, Nwoya and Amuru Districts for taking the time to tell me about their school and show me around.