A Message from new Interim CEO Jonathan
May 10, 2016
Dear Friends,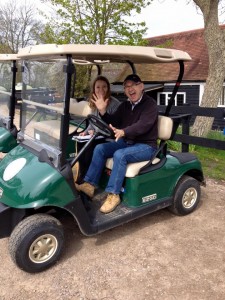 It's great to have the chance to write to everyone connected with African Revival at this time.  I'm coming to the end of my first month as Interim CEO and the last four weeks have been interesting, challenging and not a little surprising for many different reasons!  I think my biggest surprise was the wonderful AR Golf Day that took place on 21st April at the beautiful Warren Estate in the heart of Essex. We had 60+ guests join us not just for the enjoyment of a day's golf, but there was also an opportunity to present the work of AR to a group of supporters and potential new supporters.  We were very fortunate to have the run of the whole estate as a result of our links with the Utley Foundation, who kindly sponsored our day alongside Ambant, a UK insurance company.
The result was a great return for AR and a number of new connections who are interested in the work we are undertaking in Uganda and Zambia.  And it is to those two countries that I am travelling very shortly to see our work on the ground for the first time; it will be encouraging to see the impact that we are having on the lives of ordinary people – especially the young – at a community level in Africa. For of course, AR is all about people whether children in a southern Zambian school that need a new classroom or parents of local school children in a remote region of northern Uganda who are involved in one of our innovative school garden projects.
We are enormously grateful for all the support that we receive from individuals and groups in this country and are also privileged to link with marvellous partners in Africa.  So we become a channel of support for those in Africa with whom we partner.  But this channel doesn't just flow one way; for all of us in AR there is a continuous stream of lessons that we learn from those on the ground and this mutual process of support and learning enables all of us to achieve something special in our different areas of involvement.
So thank you for your continuing support during this coming year and if you ever want to know more, please don't hesitate to give us a call in the office.
Warm greetings,
Jonathan Hett