August 18, 2015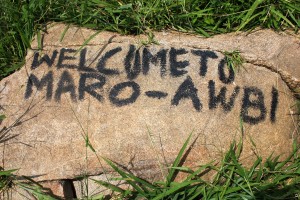 There is more to school than simply books and classrooms. In fact, there are many components which promote a positive school experience, some of which can be easily taken for granted. One such component is hygiene and sanitation; not only are solid hygiene practices, and sanitation structures necessary to maintain good health, they can also help combat wider issues such as student retention in schools.
This is why we have worked on these issues in some of our schools, including Maro-Awobi Primary School, one of our model schools located in northern Uganda's Amuru district. When we first began working with Maro-Awobi many years ago, the tiny rural school consisted of one classroom block. However, over the years, we have worked with the school to build two more classroom blocks, a staff room and provided furniture. In addition, we have built three separate latrine blocks (one for teachers, one for boys, and one for girls), two wash and changing rooms, and drilled a bore hole on the school grounds.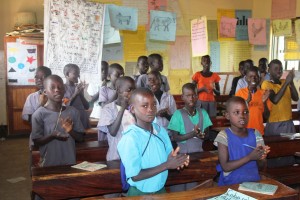 Why did we choose to invest specifically in these areas? Ensuring a fresh supply for water helps facilitate good hygiene practices – such as hand-washing, and cleaning – which can promote the good health of pupils and teachers. In rural schools, un-sanitary practices such as open defecation remains a common issue, which can lead to serious medical repercussions, including cholera. As such, the provision of private latrines is key to promoting the health of students, as well as the wider local community. Moreover, providing gender-segregated toilet facilities reduce instances of sexual abuse in schools, which can led to pregnancies and drop-outs. Indeed, the retention of female students remains a common issue in Uganda.
The investment of washing and changing rooms has proved to be particularly beneficial to Maro-Awobi's female pupils; in the school's rural setting, sanitary items are largely unavailable and expensive, and so effectively managing periods is a real challenge. To avoid any potential embarrassment and discomfort, in the past, many girls opted to stay home during their monthly period. Unfortunately, missing so much teaching was detrimental to their learning, and stalled their academic progress.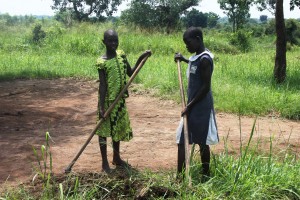 As such, the washing and changing facilities have greatly helped the girls to manage their periods with dignity in a private space, and has thus reduced school absences during this time and in turn, promoted the retention of female students at Maro-Awobi Primary School. The school's head-teacher, Justine Law, has already found that girls' drop-out rates are decreasing year on year because of these facilities, and girls' daily attendance has improved. Justine's hope, which we wholeheartedly echo, is that through these facilities and frequent community sensitization, all 193 of her female pupils will complete primary school.

Posted in News | Tagged African Revival, hygiene, sanitation, Uganda, WASH, water | Leave a comment