October 8, 2015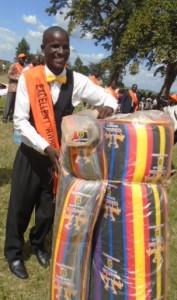 On the 5th of October every year, World Teachers' Day is held to honour the hard work and dedication of teachers all across the globe. And Anaka, a town in the Nwoya district of Northern Uganda, wasn't about to miss out on the celebrations! This year, the town council organised an awards ceremony to allow the local community to celebrate the achievements of its teachers, while also raising awareness of the vital contribution that teachers make to education and development. During the ceremony, the resident district commissioner presented awards to certain teachers who had exhibited excellent teaching performance. Prizes included a bike and a mattress – practicality always comes first in Uganda!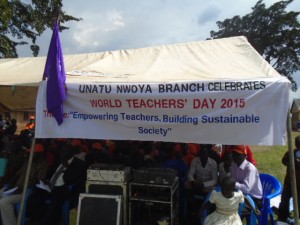 African Revival's Early Childhood Development (ECD) Programme Officer, Maxwell Kinyera, attended the celebrations and interviewed some of the teachers themselves, whose commitment to their role is the backbone of the nation's education system. Read Maxwell's interviews below, in which the teachers reveal how they celebrated World Teachers' Day and what they hope for their pupils and school in the future, and offer some words of advice for Newly Qualified Teachers all over the world!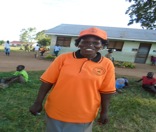 Florence, aged 33, is a teacher at St. Luke Primary School in Nwoya district. To celebrate world teachers' day, she prepared her children to present a poem. In the future, she wants her pupils to become responsible members of the community they live in, while she wants her school to be a centre for academic excellence. Florence has undergone two teacher trainings; refresher training on learning aids development and training on child protection. She believes teachers' training should focus on developing teachers holistically so that the teachers should be able to produce children who are all rounded citizens. She welcomed and encouraged teachers out there who have just finished college to join the profession with all their heart even if the pay is small.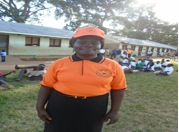 To celebrate World Teachers' Day, Omona, a teacher at Anaka P.7 School, prepared her pupils to present welcome songs and dances to entertain the guests. In the future, she wants these pupils to have better lives through good jobs. In order to achieve this, she hopes for better classrooms and academic performance in her school. Omona received two trainings organised by African Revival. She added that the training helped her to develop a growth mind-set and become a better teacher. According to her thinking, teachers' training should focus on academic and adolescent sexual reproductive health and rights. To encourage other teachers across the world who have just finished training, she said they should have positive attitude towards teaching. She appealed to them to prepare fully.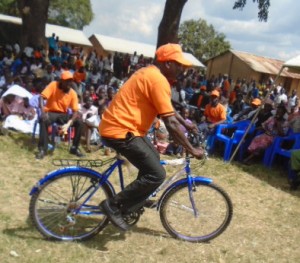 Mr. Patel is the Head-teacher of Purongo Hill Primary School, who was voted the best head teacher in the district (and as a prize received a bike – which he can be seen riding in the photo!). He contributed money towards the World Teachers' Day celebration and he was among the organising committee for the district level celebration. Mr Patel holds a diploma in primary education and several on-job trainings related to his functions. He thinks teachers' training should focus on attitude change and curriculum delivery, and encourages newly qualified teachers to love their profession and be committed teachers. He added that through hard work they can make them stand out from the crowd and be recognized by others. When teaching, Mr Patel enjoys being orderly and giving facts and career guidance to the learners. In the future, he wants his pupils to work hard to become better members of the society, taking up leadership positions and even replacing them in the teaching profession. He wants his school to be the best, and a model school where people and other schools come to learn from.

Interviews and photos by Maxwell Kinyera, Early Childhood Development (ECD) Programme Officer at African Revival.

Posted in News | Tagged Education, Teachers, Uganda, World Teachers' Day | Leave a comment