Steve Blunt's Car Rally Showcase
May 15, 2012
We are delighted to be hosting Steve Blunt's Car Rally Showcase on the 24th May 2012
One of our great supporters, Steve Blunt, a Senior Partner of Clyde & Co, won the London to Cap Town Car Rally 2012 against tremendous odds. To celebrate and help raise the funds for African Revival, he is holding a car rally showcase @
 Brooklands Museum near Weybridge on Thursday 24 May 2012 from 7pm
At the event you will be able to see Steve's rally car on display and he will be giving a short presentation on his exciting journey.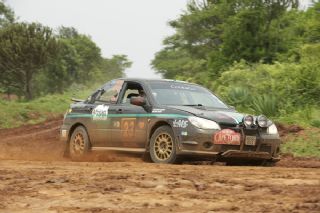 The event will be held in conjunction with Clyde & Co who have raised £5,000 so far.   Each rally car also carried a box of books that were distributed to local schools en route to help start school libraries.
The event will include drinks, canapés, a tour of the Brooklands Museum and an Auction.
The museum also features a world land speed record 24-litre Napier-Railton, various  F1 cars, a number of vintage cars and motorcycles and a unique collection of aircraft including Concorde.
About the Rally
After 29 days, driving across 14 countries in Europe, the Middle East and Africa, Steve and Bob arrived in Cape Town ahead of the other 45 other cars in the rally to win by 38 seconds!  And it wasn't just the driving that kept them busy; Steve and Bob were offered cheap firearms in Kenya (dismantled to fit in their toolbox of course), they negotiated their way through several armed unofficial road blocks one night in Tanzania, narrowly avoided being caught up in a riot in Egypt and were warned of kidnap threats near the border with Somalia.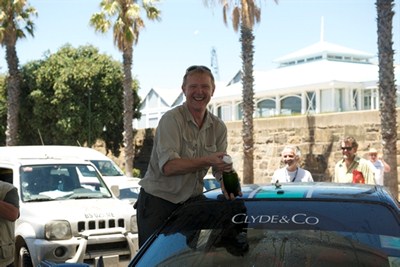 By the time they arrived in Cape Town the front brakes of their Subaru were worn through to the metal, both front dampers were leaking, they had a bent steering arm, and the chassis had bent and creased the bodyshell. There was a cracked windscreen (due to body flexing), cracked rear subframe, 2 heavy duty rally wheels were bent and 3 rally tyres badly damaged.
The car was incapable of another competitive mile and had to be pushed into the container for its 4 week trip back to the UK.
In recognition of their achievement Brooklands has asked to display the car in their Museum, in the exact same condition as when it finished the rally, dusty, muddy and carrying the many scars of 10,000 miles including some of the toughest roads in the world.
For more information please contact our fundraiser manager:
RSVP to Mandy@africanrevival.org
Tel: 020 8939 3190