Meet Fielda and James: Speed School Facilitators
May 20, 2016
Fielda and James are facilitators in African Revival's new Speed Schools project. James completed a Diploma in Business Administration and was staying at home looking for work when this project started. He told African Revival about his role as a facilitator.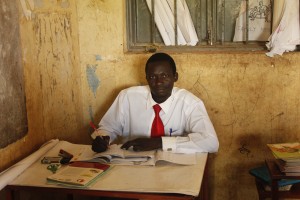 "I come to school every day from 8am to 5pm Monday to Friday and even on weekends if there is any weekend activity. You take 25 children age 9-14 years. If someone is missing school, I follow up and see the cause of them missing school. When I am teaching the children, I treat them as my own because I am responsible for their future."
Fielda was a Grade 1 teacher at Wilacic Primary School. She had never attended teacher training and she knew training as a facilitator would help her professional development.
"When I heard about the role of facilitator I knew I would be trained. With the training I could do a good job as a facilitator and as a teacher at this school when the project finishes."
Facilitators undertake one week of intensive training before they start teaching. Like James, not all facilitators come from a teaching background. We look for someone from the local school community who can play a holistic role in their children's education – liaising with parents and acting as a role model in the community as well as teaching a tough, condensed curriculum. Fielda says she learnt so many things from the training.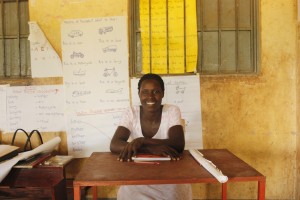 "It was the first time I learnt songs and rhymes that we can use in class. It was the first time I learnt how to make children sit well in the class, how to teach them, how to guide them. I also learnt how to associate with fellow colleagues."
James said the training would stay with him his whole life.
"They took us through the process of child development from the womb up to adult. We learnt teaching methods and seating arrangements, and I learnt that a year's curriculum can be condensed into three months if you are speedy and accurate."
Although Speed School takes children up to age 14, many have never attended school before.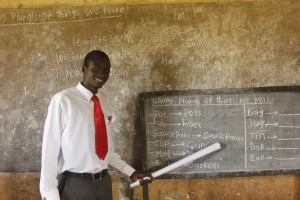 "In my class, sometimes I can be writing something and a child says 'Sir, let me write that' and I feel so glad because I know they have learnt. When you teach them, they remember tomorrow. Others already start thinking about a topic before you begin teaching it."
Through Speed Schools, facilitators have learnt activity-based learning.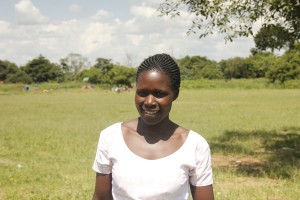 "I always like music, nature and practical learning. This week we are learning about things we make, so we go outside and collect materials and when we come back to the class we make things like pots, and baskets."
However Speed School is not without challenges. Both Fielda and James agree that teaching a condensed curriculum everyday from 8am to 5pm can be tiring for the children and the facilitators.
James said, "Every day you need to plan, you need to scheme and you need to teach 8 lessons. It's hard to scheme 8, plan 8 and teach 8 each day. At least we were given a book of lesson plans, so I'm using that a lot."
Fielda added, "There are also some people who think these children are wild. They look at them and they see no hope in them."
But the parents are already seeing real changes in their children. And it is clear from talking to Fielda and James that they get a lot of personal satisfaction from seeing the children develop so quickly in knowledge, ability and confidence.
"What I enjoy most is when I come to school and I find the children are already waiting for me" says James
Both James and Fielda agree that those who think negatively about children who dropout will see the results of Speed School at the end of the year, when these children reenrol in mainstream primary school.