Koch Lila – WASH
August 14, 2015
Koch Lila Primary School is located 15km off the main road from Koch Goma sub-county leading to the Nwoya district head-quarters. Although we have been working with Koch Lila Nursery School as part of our Jumpstart programme since February 2015, our partnership with the school actually goes back a little further.
Several years ago, we wanted to ensure that every aspect of a child's school experience at Koch Lila was a positive one, and that included making sure that their most basic needs were met. We recognize that providing clean and private toilet facilities is crucial to promoting the good health, and dignity of all pupils. As such, one of the ways in which we invested in this rural school was through building separate latrine blocks for boys, girls and teachers, as well as drilling a bore-hole and constructing girls' changing and washing rooms.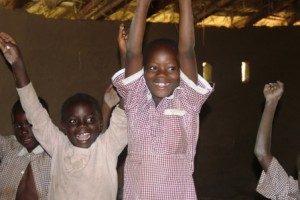 Here at African Revival, we value the education of boys and girls equally, but we focused on building the girls' washing facilities for one very good reason. In Uganda, because of late enrolment and repeating classes, girls often begin their periods whilst still at primary school; this has ultimately become a leading cause of girls dropping out of school, because many girls struggle to practice effective menstrual management. However, by constructing the changing and washing rooms, girls are better able to manage their periods at school, which reduces absenteeism from class during their monthly cycle.
The school is also committed to ensuring that girls are able to enjoy school in comfort and dignity, and even supply soap and smelling oils for the girls to use.  The school's senior woman teacher, Judith, is also teaching the girls to make sanitary towels using local materials, like cotton cloth. Judith has been in her role for two years now and really enjoys being able to support the girls in this manner, and help combat the challenges which may keep them away from school, including early marriage, and the heavy burden of domestic chores – particularly during planting and harvesting seasons.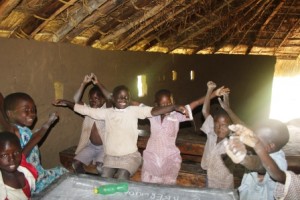 Judith told us that thanks in part to the changing and washing facilities, more girls than ever are attracted to the school. Indeed, when constructing these facilities, our Construction Project Co-ordinator Vincent really had the girls' best interests in mind and thought through his plans carefully; he ensured that the washing and changing block was private, secure, and far away from the boys' latrines. In fact, girls' enrolment has even just (by 9 pupils!) surpassed that of boys at the school, which is almost unheard of in northern Uganda. We are delighted that the school have closed their gender gap, and we hope that both boys and girls continue to enjoy these clean and hygienic facilities throughout their time at Koch Lila Primary School.