Jumpstart! Update – February
February 26, 2015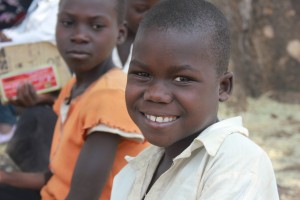 February is a significant month for many children in Uganda; it marks the beginning of the new academic year. Every morning, children in smart uniforms can be seen walking to school with their friends, laughing together and clutching new exercise books. What will this year hold for these school children, particularly the very youngest students?
Education is extremely important to us here at African Revival, but we also know that there are many components to a child's early development. As such, this February is especially exciting, because we launched our new Jumpstart! project. In the past week, our Uganda-based team have been hard at work hosting community sensitization meetings in our partner schools throughout the Nwoya district. These sensitization meetings represent the first step of Jumpstart!: establishing a partnership with parents and care-givers, as we work collaboratively to give children the best possible start in life.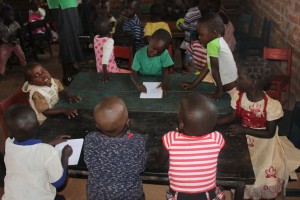 During these meetings, we have been working alongside parents and care-givers to ensure that children receive the appropriate support at home so that that they are well-prepared to succeed during their time at pre-primary school, which will offer a solid foundation upon which children can build their lives to become well-rounded, and successful individuals. It has been our great pleasure to meet many committed parents and teachers, who are eager to support their children's development in any way they can. The local district education board have been equally enthusiastic about Jumpstart!, who told us that our programme is a valuable one which they fully support.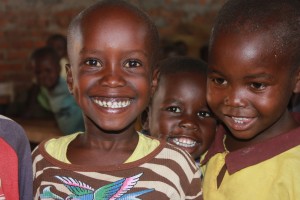 Completing a pre-primary education brings children to the academic level necessary to succeed in subsequent years, and reduces the likelihood of repeating school classes; the particularly good news there is that girls will therefore be more likely to finish their education before getting married. As the Ugandan government does not pay the salaries of pre-primary school teachers, one of the practical ways in which parents can support their children's academic development is through paying their school fees regularly to ensure that nursery teachers are adequately compensated for their hard work.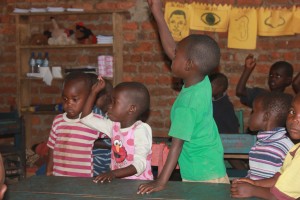 This week, the team have spent many hours on Nwoya's bumpy roads, but we have been thrilled by record number of attendees at the meetings; in one schoo, Anaka, we were welcomed by a record 203 parents, and were particularly encouraged to see so many father-figures in the crowds. In every school, we have been inspired by the enthusiasm of head-teachers, care-givers and parents alike who have all demonstrated a commitment to working together for the well-being and development of the schools' very smallest children. One parent noted:
"I am looking forward to telling the people at home who weren't at the meeting about everything we are learning. I can see how important my role as a parent is towards my child's development; I am looking forward to being more actively involved in my daughter's education and tracking her progress more carefully".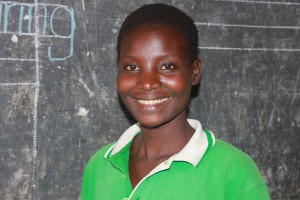 This week, African Revival are funding 10 nursery teachers from our partner schools to  attend an intense, week-long early child development teaching training course in Gulu. We look forward to introducing you to some of the teachers, and finding out how they plan to implement their new-found knowledge and skills into their nursery classrooms.
Keep your eyes peeled for more Jumpstart! updates coming soon!