Get into the Christmas spirit with Masasewee, Maxwell and Mercy in Zambia!
December 23, 2015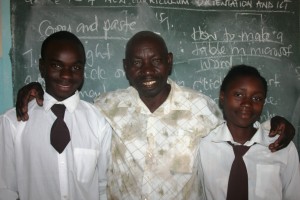 Who is starting to feel festive? We'd love to introduce to you to a family who is really getting into the Christmas spirit! Meet Masasewee and his grand-children: Maxwell and Mercy, both 15. Maxwell, Mercy and their six younger sisters have been living with Masasewee and their grand-mother Chipoca since their parents sadly passed away three years ago.
Maxwell and Mercy are both in Grade 8 at Bwacha Basic School, an African Revival supported school within the town of Kalomo, Zambia. Masasewee, a retired policeman, actually founded the school back in 2006, and currently still serves as the school's PTA chairman! Unsurprisingly, his grand-children are extremely proud of him! Mercy told us: "We like our school; the teachers are good to the pupils-they teach us how to live in the future and explain things we don't know. We are very proud of him- he does good work! He helps people in the community- making bore-holes and things like that." However, that Masasewee's passion for education and his local community has rubbed off on his grand-children, as Maxwell told us that his greatest Christmas wish this year is for "our school to have even more pupils so that even more children in our community can be educated".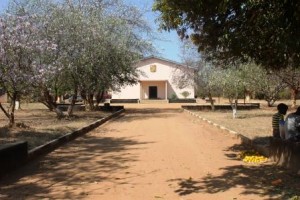 Although their house is already pretty full, the family enjoy celebrating Christmas with others, especially relatives, neighbours and friends! As Mercy explained, normally on Christmas day "we usually go to church and pray and worship and then come home, and make a small party at home. We cook special foods like rice, chicken and bread, and we buy nice drinks like sodas". The children's grandmother Chipoca normally takes charge of the preparations, but all the girls are always at her side to help chop vegetables, season dishes, and serve drinks! Mercy and her sisters particularly enjoy making cakes together, and preparing the potatoes. Even Maxwell pitches in and washes the plates once everyone has finished eating!
Aside from enjoying this wonderful feast with loved ones, what is the family hoping for this Christmas and for the New Year? Mercy told us that "I wish all the people in the world can celebrate, and remember what the day means-Jesus was born!" As for Maxwell, his wish is that "our community continues to cooperate together, so that we can build up a better town". Finally, their grand-father shared his Christmas wish with us: "as a guardian and as a PTA chairman, I would be happy if the school could be sustained and that we could build a new classroom. That would be good. As for Zambia, at the moment, things are hard, things are expensive especially those who are not working so we are hoping things will change for the better next year."
We would like to wish Masasewee, Maxwell, Mercy and their entire family a very happy Christmas, and we hope that all their dreams and aspirations for 2016 come true!