Construction at Juba Road starts
April 16, 2015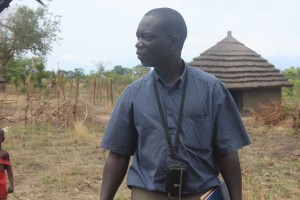 On the 1st of April 2015, our Construction Co-ordinator Vincent was pleased to officially hand over the Juba Road Primary School construction site to contractors, who, supported by African Revival, are now free to begin building two teacher's houses.
After signing a memo of understanding with African Revival, our contractors Robert and John-Paul and their team of men will be constructing a twin house on the school premises. This will provide accommodation for two staff members of Juba Road Primary School – a school located just 30km from the South Sudanese border. African Revival has a strong relationship with the school, having already built classrooms, latrines and a girls' washroom there, and we are excited to be building (quite literally!) upon this relationship in the coming months, as we work together to improve facilities.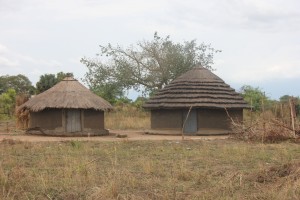 Currently, many of the school's teachers live in huts near the school property but, in several months, some fortunate teachers will be enjoying the new accommodation. This includes Millie-Grace, the senior woman teacher and Richard, the deputy head-teacher, who travels a considerable distance to the school every day. The head teacher, Fred O'Kot, chose these teachers because Millie-Grace's role is "paramount – and living on the premises will enable her to attend to the girl children more fully". Indeed, Mr O'Kot is passionate about promoting the retention of female students at the school, a goal which has been greatly assisted by the building of the girls' washrooms. 312 girls are currently enrolled (out of 712 pupils), but drop-outs begin to occur from P5. This is why Mr O'Kot is keen to increase female teacher presence in the school; to support girls, encourage them in their studies, and help with any challenges which may lead them to discontinue their studies.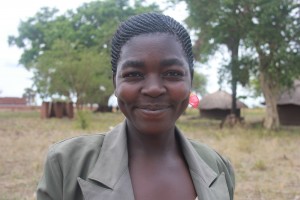 Mr O'Kot believes that by having Millie-Grace and Richard on site, "we will have both senior staff present to talk to both boys and girls about the challenges girls face as they become women; we want our boys to understand these and support the girls so that they can all grow and learn together." Having senior staff members easily accessible to the children will facilitate these sorts of discussions, as well as allowing them to better support children in all their needs – both academic and pastoral.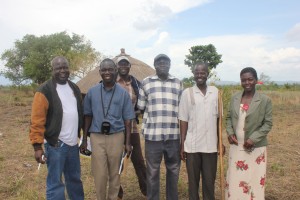 One of the contractors, John-Paul, whose team recently completed the girls' dormitory at a teacher training college in Kitgum, assured the head teacher that he is looking forward to commencing work and will deliver quality results as proven in the past. John-Paul also asserted that ultimately, the project belongs to the community, and he is therefore keen to see teachers and parents take ownership of the project by helping to locate local materials and labourers as a way of also boosting the local economy. Vincent echoed these words, voicing his expectation that the construction team will "work to an excellent standard, producing structures which other schools will want to emulate. Let this be a model for future works in schools."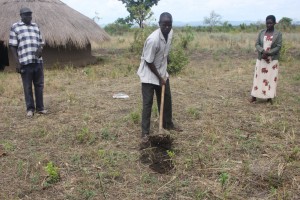 As the chairman of the SMC, Richard symbolically broke the ground where construction will begin. Millie-Grace told us that "I am so excited, and looking forward to the completion of the new housing. My hut, where I live now, isn't very safe or secure and I often have to keep going back to home to check on it – but now I will feel safe and comfortable, and will be able to spend more time at school, and be more available to my pupils – particularly the girls".
As African Revival left the school, Mr O'Kot assured the team that the school "is ready and willing to work together, and we will support you in every way we can – let's work as a team to make this project as simple as possible". We are confident that John-Paul and Robert's team will do a fantastic job with the teachers' houses; we look forward to tracking their progress, and of course celebrating with the school once the building has been completed. As always, all our projects at African Revival are motivated by our desire to improve access to, and quality of, children's education, and our hope is that the new houses benefit Richard and Millie-Grace, and in turn, will positively impact the children they are responsible for.