We have secured funding for a new phonics programme that will be carried out across 25 schools in the Nwoya and Amuru districts of Northern U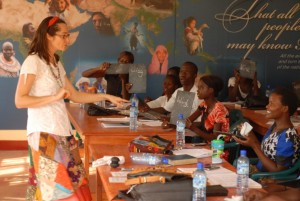 ganda.
Why Phonics?
Our phonics programme is part of our Early Childhood Development work. At Present, literacy in Uganda is taught using rote memorisation techniques, but children are not taught to decipher sounds in words.  Phonics is an innovative, new teaching method that correlates sounds with letters, providing children with a strong literary foundation that is vital for good academic achievement in all subjects.
Programme Components
This programme is overseen by an in country phonics officer working with all the schools participating in the programme.  Teachers from each of the 25 schools will be trained in phonics, and will be provided with the material needed to teach phonics in the classroom.
Programme Outcomes
The teachers we train become experts in the field of phonics and can pas their knowledge on to their own schools, or neighbouring schools.  We will conduct a baseline assessment in 10 partner schools and 5 control schools before the programme starts to monitor the impact our programme has on literacy rates.
This project is designed to address rural-urban education inequalities in Uganda.  Rural schools in the country are typically underequipped and understaffed, so improving the standards of teaching through the phonics programme will improve levels of education achieved in these rural schools.
Programme Impacts
This programme will directly improve child literacy.  Improved education achieved in all subjects because of this will have wide reaching impacts, not just on students but on the whole community.  Improved education has been shown to have a causal and direct impact on numerous social markers such as: sanitation, health and mortality, nutrition, civic participation and rural poverty.  Over time improved education will create notable returns both financially and with regards to health.  These returns will contribute towards rural development, addressing rural inequality, and eventually contributing towards lifting children and families out of poverty.