Jumpstart! training with the Acholi Language Board
July 28, 2015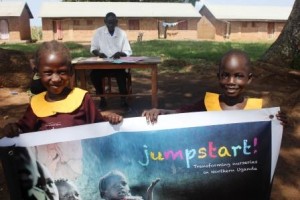 Language is one of the biggest challenges faced by ECD centres in northern Uganda. Many parents want their children to learn English at nursery school, and pressure teachers to conduct lessons in English. However, it is important for ECD pupils to first gain a strong grasp of their Acholi mother-tongue, before introducing a secondary language in primary school. Indeed, the young pupils in the nurseries we support communicate in Acholi at home and when playing with their peers. As such, it can be confusing to come to school and use un-familiar English learning materials, full of complicated words.
As children learn better in their own language, we have partnered with the Acholi Language Board to support our ECD teachers in making appropriate Acholi instructional materials to give young pupils a strong command of Acholi.  Over the past two days, our Jumpstart! teachers have gathered into two clusters (one in Koch Goma, and another kindly hosted by Anaka P7) made up of 22 teachers each, to attend an Acholi Materials Development workshop.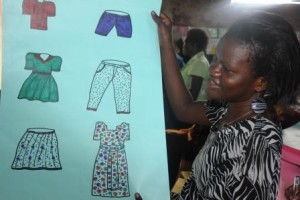 During the workshop, one of the Acholi Language Board trainers, Mattina, explained more about the importance of nurturing the children's first language: "Acholi is the language children use at home; language is about culture- you cannot detach a child from their mother-tongue.  Although parents want their children to learn English- because it is a sign of education-academic success starts with having a good grip of your own language first. That's why we are helping teachers develop Acholi learning materials".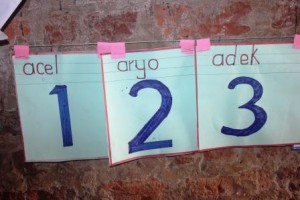 Additionally, it is important to create learning aids which depict scenes and items from children's own environments; using European exercise books or posters are often un-relatable for children living in rural Africa. Instead, using pictures of animals and scenes which are recognizable to children is much better, and more useful in expanding children's everyday vocabulary. As such, the teachers fully submerged in the training, drawing flash cards of huts, household items, farming tools and a whole host of typically Ugandan scenes!
Mattina has been impressed by the energy and enthusiasm of the teachers: "the teachers are busy! The teachers have a lot of energy, and have worked hard during the workshops".  One of the teachers who attended the workshop is Jackline, who has been teaching the K1s at Nwoya Public ECD for 5 years.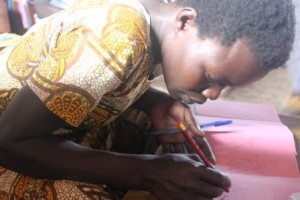 Jackline has been busy making learning materials for her classroom: "I have been making lots of learning materials, depicting local items and scenes.  I am going to put my new posters and story sequences in my classroom, and I hope it helps my pupils learn". During the workshop, the Acholi Language Board  also supported teachers in improve their own written and grammatical Acholi skills, which will help them in their classrooms, and writing reports to their pupils' parents. Susan from St Kizito Bidati told us: "to be honest, I was always making mistakes with my written Acholi, and it was really embarrassing when parents would correct me. I really needed to improve these skills. Now, I feel more confident that with the (grammar) chart you have provided, I will make far fewer mistakes".
Another aspect that trainers were keen to emphasise during the workshop is the importance of enabling children to learn through play. Mattina told the teachers: "80% of learning is playing; exams for very young children aren't the way forward. So don't worry too much about teaching tiny children letters and words at this stage. Instead, develop their story telling capabilities; you don't need words, just show them pictures, and ask them to describe what is happening in the pictures. This really helps them develop their mental abilities, and oral skills." As such, during the workshop, the teachers followed Mattina's advice, and drew their own story sequences, many of which contained a good moral (helping others, and adopting good hygiene practices).
Our Uganda Country Director Peter is equally passionate about learning through play. As Peter visited the workshop in Anaka, he told the teachers: "The first language children communicate in is play; that's their first language. The use of play materials is important- as young children understand the language of play the best.  Play activities play prepare children to take on advanced education. We want children to like good school, and have a positive educational experience- and the materials you have made which contribute towards that goal".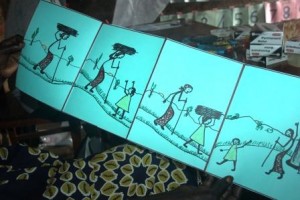 We are pleased to report that the teachers have enjoyed their two-day workshop, and have made some incredibly creative Acholi learning and playing materials which will help prepare pupils for primary school! However, many teachers still struggle to convince parents of the value of teaching in Acholi and encouraging free play as a crucial aspect of a child's early development.  As such, we will continue working with the local community to demonstrate the importance of nurturing their children's mother-tongue, before progressing to English at the right time.