Jumpstart! Teacher Profile – Scovia
March 20, 2015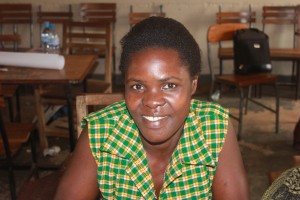 Scovia trained as a secondary school teacher, and has taught in secondary schools for the past few years. However, Scovia recently moved to Purongo with her husband, where she accepted a K2 teaching position at Purongo Hill Early Childhood Development (ECD) Centre at the beginning of this academic year.
Although Scovia is accustomed to teaching older children, she is enjoying this new challenge. "I love nursery teaching, I find it so interesting. I like interacting with the children; it amuses me because I like children very much. My pupils are doing well, although I have lots of new pupils from different schools and sometimes they struggle to understand the things I am trying to teach. But by the end of the year, I am hoping that I would have helped these children improve in the areas where they struggle".
As part of our Jumpstart! programme, African Revival recently enabled Scovia to attend a week-long ECD training course to equip her with the knowledge and skills to best support her young students. At the end of the course, we caught up with Scovia:
How did you find the ECD training?
"I have learnt alot through this training week, because my previous training was geared towards secondary school teaching. Coming here has opened my mind in many ways, and will really help me in my K2 classroom."
What is the most important thing that you have learnt?
"I have learnt how to interact with the children, how to plan lessons and activities which are at the right level for the children, and how to implement a good routine for the children; these are the things which have made me so happy to know, because now I will be a better teacher. This training has been so good for me; it has been so busy but we have gained really good skills to take back to our classrooms. I think my eyes have really been opened to how important ECD is."
We know that dedicated and skilled teachers are fundamental to improving nursery schools in Northern Uganda and are proud to be working alongside fantastic teachers like Scovia. Click here to find out more about our ECD work in Northern Uganda.