Building blocks for the Future
African Revival is going from strength to strength. While continuing to support our current programmes, we have a number of exciting new programmes being implemented and more in the pipeline:
Just a Desk Campaign
This campaign has been spearheaded by our Trustee Roy DeBoise.  Roy is a retired headteacher, and has visited schools we support many, many times.  He is passionate about raising funds to help schools with the provision of classroom furniture, refurbishments of blackboards, and scholastic materials.  We actively encourage schools and other educational bodies in the UK to support this project.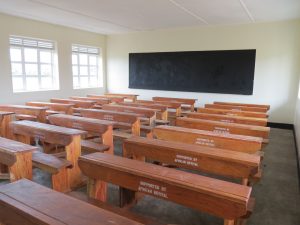 Classroom furniture makes a tremendous difference to both physical and mental well-being of students.  Imagine sitting on the floor on average six hours a day, then being given a desk and chair to sit at?  Pupils need to learn to write with a good sitting posture in a learning environment that motivates them to attend school.  This picture shows exactly how we can transform a classroom.
Please get in touch if you can help?  We can send supporting material or you can click on the following links for a presentation and video (Just a Desk Presentation Slides and video).  A desk bench that seats 3 to 5 children costs as little at £80 each.  Desk benches create a welcoming environment that assists teachers in lesson delivery.  The furniture is made from timber, enabling repairs to be more easily and inexpensively by the school management committee.
Girls and Sanitation 
We've found that menstruation is one of the main factors preventing girls from attending school regularly. We want to boost academic attainment and retention amongst primary school girls in Zambia and Uganda by making schools comfortable places for girls to be.
We do this by facilitating workshops for pupils, teachers and the wider community which provide knowledge about sanitation and good hygiene management. In these workshops we also challenge taboos so that menstruation comes to be seen as a normal, natural process. Along with the educational aspect of the programme we construct boreholes, latrines and hand washing facilities in schools that don't already have them and provide girls with reusable pads, soap, jerry cans and access to spare uniforms. The programme is taking place over 5 years in 23 schools in Uganda and 15 schools Zambia. The intervention will also provides an opportunity for data collection – presently there is a lack of data supporting long term female interventions of this kind.
The reusable pads have been sourced locally in both Uganda and Zambia. In Uganda the reusable pads, called 'Easy Pads', are produced by women who would otherwise be unemployed. They are robust (made with a sewing machine with inter-locker) and easily hand-washable.  Read more about each year of this project on our Completed Project section of the website.
Phonics Expansion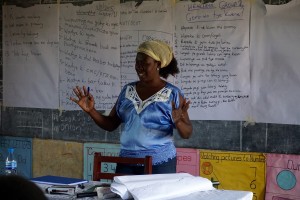 Literacy rates across Uganda at primary level are low, and in Northern Uganda they're even lower than the poor national average. At the start of 2017 we embarked upon a two year-long phonics teacher training programme in 25 schools in the Amuru and Nwoya districts of Northern Uganda. Phonics is a teaching method by which sounds are correlated with letters, it will give students a stronger literary foundation which improves academic attainment in all subjects.
The phonics programme has seen literacy rates increase by over 10%, and due to it's success, we have now committed to a Phonics Expansion programme.  The expansion is taking place in a further 20 schools.
Teacher Training 
We are continually supporting teachers in the schools where we work by providing them with training and materials to help them in their work and day-to-day lives. We incorporate teacher training into many of our programmes, and are delighted to have completed in March 2018 a new model Early Childhood Development Centre at Kitgum Core Primary Teacher Training College in Northern Uganda.  Due to this new facility, Kyambogo University, the supervisory body of all Colleges in Northern Uganda (under the Ministry of Education), will be taking over mandate of training and certifying all ECD caregivers at KCPTC with a higher level of certification – Diploma award – the first of its kind in Northern Uganda.  We are also funding teacher salaries in South Sudan.
Infrastructure 
In Zambia our main focus is on infrastructure. We work in the poorest region of the country, mainly in community schools. Community schools are built by the local community where government schools are too far away to access or oversubscribed. Lack of resources means that community schools are often poorly constructed (out of mud and wood) and not big enough to accommodate all the students that go to them.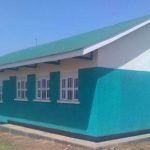 We build 3 room classroom blocks so that multiple lessons don't have to happen in the same rooms simultaneously. Included in the construction of classroom blocks is a lockable staff office, where teachers can store confidential material (i.e.: exam papers). Where required we furnish classrooms with desks, chairs and boards.
Construction is also a large part of our work in Uganda and South Sudan.  We've built latrines in the Koboko region at 5 schools to support the massive influx of South Sudanese and Congolese refugees and completed the building of 6 x classroom blocks at schools where the children are being taught under trees, and provided boreholes.  African Revival has literally built these schools from the ground up – and we are about to do the same at Marukulu Primary School where there is currently no infrastructure at all.
Schools Demonstration Farms
In Uganda and Zambia we run a school demonstration farm programmes to address low quality primary education, food insecurity and poor agricultural productivity.
Many students find it difficult to concentrate in class because they are hungry, and often parents find it difficult to grow enough food. We work with school communities to establish parent-led farms and give agricultural, marketing and financial training. Profits from produce are split between the school, a group development fund and group members, and eventually the project becomes self-sufficient so our help is no longer needed.
In Zambia we've collaborated with parents and teachers at Munyenye school and put up game wire fencing to prevent grazing herds from entering the school farm and damaging crops.
We secured 50% funding from a Trust, and additional funding from the Ball 2019, to implement School Development Farms at other 10 schools in Lamwo District of Northern Uganda.  This three year project – ending in December 2023 – benefits the community and strengthens the partnership between parents and the school.
Livelihoods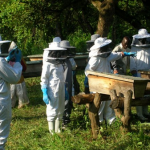 Our teams are always on the look out for new ways to improve people's livelihoods.  We recently completed a beekeeping project at 5 schools in the Nwoya district of Northern Uganda to train community members as beekeepers so they can generate income for school fees (and potentially start a sustainable business) from selling honey.
If you'd like to support any of our projects or speak to us about what we do please get in touch at info@africanrevival.org