Step Up
Only one in every 10 children in Uganda are in pre-primary education (UNICEF) and less than half of primary school finishers in Uganda are literate. At P4 only 6% of pupils can read a paragraph, and only 2% are able to solve a basic age-appropriate mathematical question (World Bank, 2019).  Part of the reason for poor attainment in primary schools is a lack of pre-primary education.  In the Amuru District, nursery schools are all privately-owned and are not regulated, which means that the quality of education is poor, and only the richest families can access nursery care. Without nursery education, children join primary school without a literary foundation and are not used to socialising with others.
What is Step Up?
The project aims to establish low-cost nursery schools at 5 government primary schools in the Amuru District of Northern Uganda. We will work with schools that have spare rooms to establish nursery schools, train volunteer teachers, provide books and learning resources and establish Village Saving and Loan Association (VSLAs) schemes with parents, to ensure they can pay low nursery fees to keep their children in school.  These fees ensure sustainability. Over time, we expect to see improved literacy data in lower primary schools as we begin teaching phonics in our nursery schools.
Who will benefit from Step Up?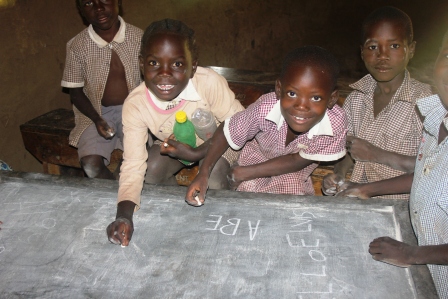 750 Children will benefit from high quality low-cost nursery education and age-appropriate resources.
450 children will benefit once the schools are enrolled in Y1, with an additional 150 joining in Y2 & 150 in Y3 of the project.  Once the schools are established, thousands more children will benefit in years to come.
15 local community teachers will receive ongoing training and support from certified nursery trainers and long-term AR partners Read For Life.
90 parents will initially join the VSLAs, receiving access to shared credit, savings support and entrepreneurial training.