Speed Schools
In Northern Uganda, many children are not in school. Some have dropped out – others have never been to school at all.
The reasons for dropping out are myriad. Some families do not have enough money to pay the fees for multiple children at school, as well as school uniform and scholastic materials. Other children are required to stay at home to care for sick relatives or help with household chores.
Our initial programme launched with 10 Speed Schools in the Nwoya district, but due the success, Geneva Global have committed funding to expand the programme.  We are now running 70 Speed Schools – 30 in the Amuru district, and 40 in Nwoya district.
What is a Speed School?
Speed School is an accelerated learning programme which will teach children the first 3 years of the primary curriculum in one year, after which they will re-join the formal education system in Grade 4.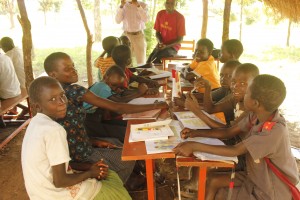 Children are taught using effective participatory and child-centred learning methods which the Speed School teachers (called facilitators) learned during an intensive training session at the start of the project.
The facilitators are also taught different ways to lesson plan, make learning aids, and encouraged to place an emphasis on critical thinking skills in class.
Reduced class sizes of 25 pupils (the average teacher-pupil ratio in government schools is 1:80) also makes classes easier to manage and improves behaviour and pupil motivation. Moreover, the facilitators are from the local community, so as well as teaching the condensed curriculum, they can also monitor their pupils to ensure that they stay in Speed School and do not drop out again.