Infrastructure
Developing infrastructure is a major part of what we do in Northern Uganda, where we have completed hundreds of construction projects since 2005.
This short video, which shows how we have completely transformed Marakulu Primary School in the Koboko District, is a great overview of the facilities we construct. This was filmed by the British High Commission when they visited the area in 2021.
Classrooms and Teacher Housing 
Classrooms are built to replace structures which are unfit for purpose. Apart from being very basic, shelters are often used simultaneously by multiple classes or age groups, which makes them overcrowded and not conducive to effective learning. African Revival constructs classroom blocks consisting of 3 classrooms and a lockable teachers office that can be used for securely storing exam papers and other learning resources.
In order to attract high-calibre staff and reduce absenteeism, African Revival constructs suitable accommodation for teachers and their families within the school compound, so there is no need for them to commute long distances in the very rural areas in which we work.
Latrines and Sanitation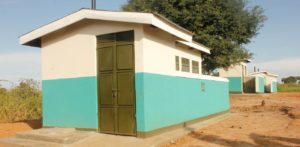 African Revival is focusing on improving sanitation facilities in Northern Uganda through the Girls and Sanitation programme, which includes latrine construction and WASH training. Improved sanitation decreases the spread of diseases and therefore reduces absenteeism in schools.
African Revival constructs boreholes in schools that do not have ready access to safe water. No access to clean water is not only a sanitation risk, but if pupils have to walk long distances to collect water for their families, they are prevented from going to school. A lack of water disproportionately affects girls because they are usually tasked with domestic chores like water collection.
Playgrounds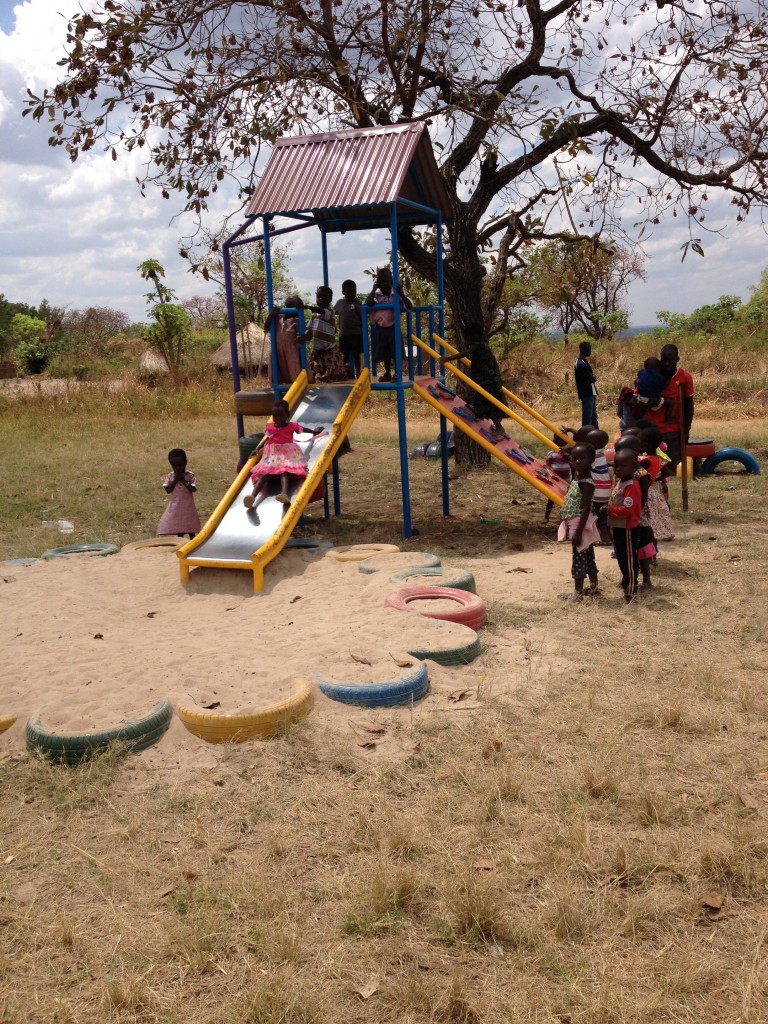 As part of Jumpstart! African Revival partnered with East African Playgrounds to build and maintain playgrounds, which allow for creative learning .
Teachers and care givers have commented on the positive impact the playgrounds have made. One caregiver, Jino Kulusu, commented:
"It took me time to see how the playground would help, but now I often use it for outdoor activities as children can learn a lot.  Children ask me about the animals we have, or practice their maths pretending to sell each other train tickets, I can even teach children about road safety as they play on the cars or motorbikes". July 2017.
Environmental Impact 
We are aware of our environmental impact and have developed more sustainable and environmentally-friendly ways of building. In Uganda, bricks are traditionally fired in kilns using charcoal and firewood, which damages the environment. We have introduced eco-friendly ISSB (Interlocking Stabilised Soil Blocks) technology, where bricks are made using less cement, compressed using a special machine and then cured, rather than fired, thereby saving 10 trees for every classroom block built. We also recruit and provide vocational training for community members to gain skills working with this technology, promoting a sense of ownership.
Below is a video of Walter, the inspirational headteacher at Lutuk Primary School in Northern Uganda. African Revival started working with this school in 2013 and with support from our brilliant donors, along with the constant dedication of staff like Walter, the school has been transformed – achieving some of the best results in the district.