Season's Greetings from the Muzembo family in Zambia!
December 9, 2015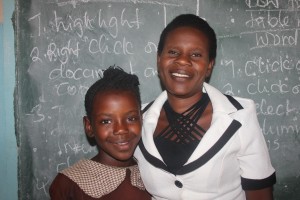 Here at African Revival, we are getting rather excited about Christmas…the food, festive jumpers, the carols, and of course curling up with Christmassy movies! These are some of the ways we will be enjoying the season, but how do the children in the schools we support in Zambia celebrate Christmas? We recently enjoyed a good old yuletide natter with the Muzembo family from the town of Kalomo (where our Zambian offices are based), who told us all about how they usually spend Christmas!
Mrs Muzembo is a cleaner at the local hospital and her husband works as a businessman selling paving bricks and building blocks; he is also the director of a private school! Together the couple have four children: Abel, Christine, Cedric, Pardon, and Lovely. The children attend several different schools in Kalomo, but Christine and Cedric are currently attending an African Revival supported school- Bwacha Basic.
For the family, Christmas is a very special time because, as Christians, they celebrate joyfully as "it is the day Jesus Christ was born…although people have many different beliefs about Christmas, this is what we believe and so on Christmas day, we go to church, we praise and sing and sometimes even have overnight prayers, and then we come back home". After the family have attended church celebrations, they make their way back home with their friends to continue the festivities. In fact, every year, they take it in turns to host a big Christmas meal; Mrs. Muzembo explained to us: "we organize amongst ourselves and say "this year, it is you who is going to prepare Christmas". When it is our turn, we prepare lots of food; we also buy drinks and make cakes. We invite friends, and we sing and dance, so that everyone is happy!"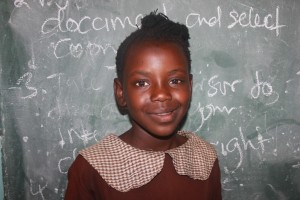 Additionally, many of the family's members were actually born in December (including Mrs. Muzembo who was born on the 29th December!) so Christmas day also doubles up as an opportunity to host birthday celebrations for anyone born during the month of December! In the midst of all excitement, the children particularly enjoy indulging in food they don't normally have. For example, Christine loves the tinned spaghetti hoops which her mother serves as a treat! For dessert, the family always buy ice-cream cake which, as you can imagine, is a firm favourite among children and adults alike! However, one more traditional item which Mrs. Muzembo always prepares is Chiwangto, a kind of sweet beer made with mill porridge- it is a staple festive drink in many Zambian households around Christmas time!
Christmas is quickly approaching, and the family are already preparing for the big day but as they look forward to Christmas, they have also been reflecting back on the past year giving thanks that "we have been able to go through the whole safely- we are very thankful to God." So, what does the year ahead have in store for this lovely family? Mrs. Muzembo proudly told us: "we are all looking forward to 2016; I am happy with my family- they are all bright so next year, I want to make sure they all get to go to a good boarding school- I am working hard to make sure this happens". Christine enthusiastically echoed this hope; her Christmas wish is to pass her exams and get accepted into a boarding school! We'd like to wish the Muzembo family a very merry Christmas indeed, and we hope all their Christmas wishes come true!