Meet Flavia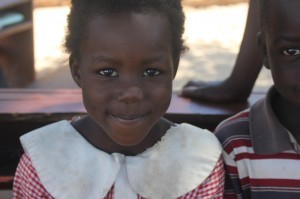 Meet Flavia. Flavia is in the last year of nursery at Wil Lacic nursery in northern Uganda, along with her brother Alfred.
Flavia enjoys her classes, and in particular, singing and dancing with her teacher and classmates; this fun activity helps Flavia develop her co-ordination, and language skills. Flavia also loves learning new rhymes, which she recites enthusiastically word for word. Currently, Flavia is learning the alphabet, a challenge she is taking in her stride. Flavia's teacher, Irene, has displayed colourful flash cards across the classroom to help students with this activity. As such, Flavia is making good progress in learning how to write and read words- both in Alcholi and English, and is now able to write "my name is Flavia" on her textbooks.
Flavia would like to become a doctor one day, and knows that she will need to pay special attention in her maths and science lessons to accomplish this dream. We know that creating a nurturing and enabling learning environment is key to helping children flourish and succeed. We want to see ambitious students like Flavia grow up to achieve their dreams, and supporting nurseries to become thriving learning environments is just one way we are working to achieve this, enabling Flavia to grow up to become Doctor Flavia.
Set up a monthly donation here.
You can read more about our jumpstart! programme here.