Meet Anthony
April 1, 2015
A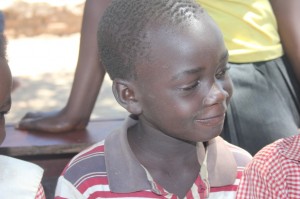 nthony walks to school from a near-by village to Wi-Lacic every morning accompanied by his brothers and sisters, who attend Wi-Lacic Primary School. Anthony walks a long way to school- around three kilometres- and so Anthony tells us that one of the best things about school is being served a nice, big helping of warm porridge during break time. This filling meal, served in brightly-coloured plastic bowls, gives him energy for the rest of the day, and enables him to focus during his K3 lessons.
During his mornings at school, there plenty of opportunities to rest and play with his classmates, but Anthony very much enjoys learning how to read and write, and says that he is good at forming letters because he often practices by copying his teacher's neat writing. As many of us have experienced, learning to read and write is no mean feat, and we are delighted to hear that Anthony is mastering these skills well, and we are confident that grasping these key competencies will be invaluable once he progresses to primary school next year.
In the afternoon after school, Anthony helps his mother by fetching water from the nearby bore hole outside his village. Anthony carries a yellow plastic jug on his head considerable distances to ensure that his family has sufficient water for cooking, washing, and cleaning in the evenings. Although this task is a long and tiring one, Anthony tells us that it is one of his favourite activities to do after school.