Give a child a head start with jumpstart!
Thank you so much for the support you gave during our jumpstart! appeal from September to November. We're just totaling up donations, and will let you know how much you raised very soon. In the meantime, meet Brenda and watch our video about Brenda to learn more about jumpstart! programme, which will start in January 2015.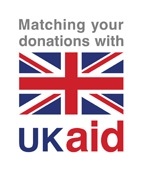 From September until November every individual donation to Jumpstart! was doubled by the UK government. Total coming soon!