Christmas with the Hamochileba family in Zambia!
December 16, 2015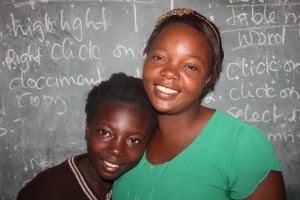 The festive food may be a little different to our turkey and trimmings, but Zambian families sure know how to celebrate Christmas in style! One family who is already getting ready for some fabulous Christmas fun is the Hamochileba family, who recently offered us some insight into how Christmas is spent in their household…
Naomi and Twambo run a micro-enterprise selling second-hand clothes, but more importantly, are the parents of four children (Dorothy, Michael, and five-year old twins David and Daniel) and the guardians of their niece, Margaret. The family moved from Livingstone to Kalomo in 2011 because they found that things were getting too expensive in the city, and felt they could enjoy a higher standard of living in Kalomo as food and rent are much cheaper there. So, the family now live within the Bwacha neighbourhood of Kalomo, where their oldest children and niece-Dorothy, Michael and Margaret- attend Bwacha Basic School, an African Revival supported school.
For the family, Christmas is a very important date on their calendar because "that is the day that Jesus was born, so we really enjoy remembering that by going to church, where we worship together and then we come back home and celebrate." How exactly does the family celebrate the day? Naomi filled us in: "we celebrate by cooking and preparing nice foods as a family- we always have chicken and rice, and prepare salads like potato salad and cabbage salad! Finally, we make lots of cakes!" For these preparations, every-one is assigned a special job so that the meal comes together seamlessly; for example, Dorothy told us that she is in charge of helping make the salads, and then washing the dishes when everyone has finished eating! Once all the delicious food is ready, the family all sit down to eat together, and sometimes even invite their neighbours over to join them, too!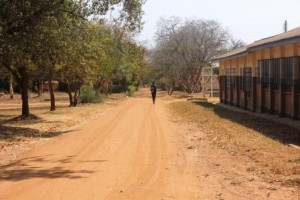 There are several Zambian dishes which tend to make a special appearance at Christmas time; in the Hamochileba household, they like making Manda. According to Dorothy, to make the dish you "prepare vegetables which are like okra, you cut them and prepare them with soda and then you add pounded groundnuts and then you add onions and tomatoes. It's good- I will prepare some for African Revival!" We'd love to give it a try alongside our roast spuds! Although the Christmas meal is a focal point of the family's celebrations at home, what they love more than anything is the opportunity that the day presents to "just spend time with one-another; Christmas can really unite people together- you all come together and that is very special".
Of course, unsurprisingly, what the children like best is giving and receiving presents! Dorothy told us that she loves receiving story-books which are fun to read but also help improve her reading, and comprehension skills. However, this year, Dorothy is hoping for new textbooks because "I know that I will need them in the coming months, because I want to pass my exams well". The family are not always able to exchange gifts, but regardless of whether the family has plenty or is need, they always enjoy Christmas, as Naomi told us: "Christmas doesn't have to be expensive- if you want, you can buy expensive things, but otherwise, we are still happy to prepare simple, traditional dishes. Like the Manda dish, you can do that cheaply and it is still delicious!" Indeed, this year has been tough one as the Zambian Kwacha has been losing value on a daily basis, so things are getting difficult for families. However, Naomi is optimistic that 2016 will bring about positive change: "I'd love to see progress in Zambia, for things to get a little better. For my family, I will be happy if we can just stay healthy!" For Dorothy, her greatest wish is to pass her all-important Grade 7 exams, which determine whether she can progress to secondary school.
We hope that the Hamochileba have a very merry Christmas, and that the year ahead is filled with strong currency, good health, and brilliant exam results!