Christmas in Zambia with Jenny and Grace!
December 4, 2015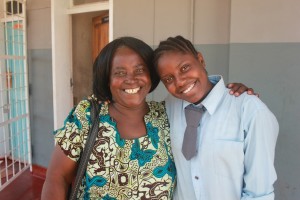 As we begin the countdown to Christmas (who is getting very excited now?!), we have been chatting with parents and children from African Revival supported schools in Zambia, to find out how they will be spending Christmas! Today, we met mother and daughter duo, Jenny and Grace, who shared with us how they will be celebrating the day.
Sixteen-year old Jenny is in Grade 9 at Kalomo Basic School, which is located just five minutes from our offices in the town of Kalomo! Jenny is the youngest of nine siblings, so she is the only child still at home with her parents. It can be a little lonely, which is why she loves Christmas because it is time when "the whole family comes together, and we celebrate together!" Of course, being such a large family, not everyone can always make attend the gathering especially because some of Grace's children live in Lusaka, and by the Congolese border but Grace tells us: we are flexible; whoever is able to will come around and congregate together". A Christian family, Christmas is particularly significant to them because it marks the day Jesus came into the world, and so they tell us that they enjoy celebrating this historical moment together by attending a special church service.
Once the family is together and they have attended church, they can prepare a big feast: "if we have money, we will buy certain meats, and we bake…it just depends on what we have." To ease the financial strain which hosting Christmas can bring, everyone in the family brings a dish to the table. Grace explained "we all help prepare the food. For example, one person will bring one dish, another might bring a big salad, and another will contribute a chicken…this way, we all do it together". During these preparations, Jenny is her mother's right-hand helper and she enjoys helping whip up all the festive dishes. Jenny's favourite part of the meal is scones, which they enjoy with tea!
So, aside from all the delicious food, what is the best thing about Christmas? Jenny shared with us what she loves about the day: "the best thing about Christmas is just celebrating, and just being happy on that day- playing with my friends and going to church! We like to have music, and making a party!" In fact, her Christmas wish is that the whole family will be happy, and will be able to all celebrate together! As for Grace, "my wish is to bring all my grandchildren together-I have ten grand-children; some live close by but others really live far away so it is nice that we can come together. The grand-children get so excited, and I love seeing that! I enjoy spoiling them when I see them- I cook for them-chicken, or even kill a goat!" Jenny, too, enjoys having her nieces and nephews about, and loves playing ball games with them whilst the parents are having a post-lunch snooze!
We hope that the family have a fabulous Christmas reunion, and that Grace and Jenny's wishes for their Christmas come true! Merry Christmas!