6 Months, 6 Photos
As announced, to celebrate the 6 month anniversary of our Jumpstart! project, we have prepared 6 photos to give you an idea of what this project looks like on the ground. Within the next few weeks, we will upload the photos, one by one, so keep your eyes open for facebook posts and tweets and enjoy !
---
Photo #1: It's all about these kids!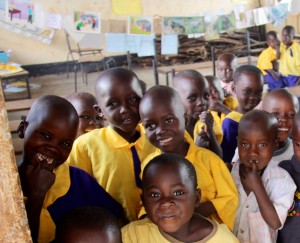 They come in all shapes and sizes – but the aim of Jumpstart! is easy: to give each one of them the best start in life possible! It's about playing, learning and interacting.
We work together with 10 schools and will support about 7000 children over 3 years. In Ugandan nurseries, there are 3 levels: K1, K2, K3 and the starting age is usually 3 years old.
Join us in supporting these kids to realise their full potential, right from the start!
---
Photo #2: Parents are on Board!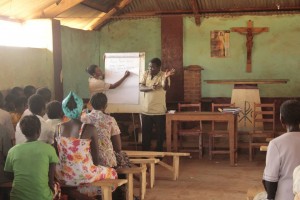 For this project to be successful and sustainable, the whole community needs to be engaged and ready to make positive change. This is why one part of Jumpstart! is all about getting the parents involved. This happens through sensitisation meetings and parents open days and is why we are so happy to see more and more parents getting involved to ensure a better and brighter future for their children!
---
Photo #3: Teachers, Changemakers!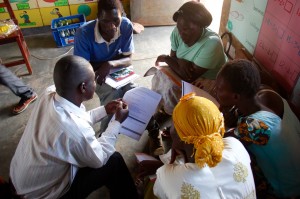 Our teachers are not only doing their best in their classrooms, they have also become involved in teacher networks, jointly trying to improve education in Uganda through innovative teaching ideas. They exchange and share their challenges in order to face them together. Several of our Jumpstart! teachers have entered into the annual micro-innovation competition run by STIR Education, a teacher-led movement to improve children's learning in developing countries: 8 of them were shortlisted into an annual micro-innovation guide, which collate the country's best innovations; 2 of them even made it into the final 50! This is great news and we want to seize this opportunity to once again congratulate them! Want to find out more? – Check out our news update!
---
Photo #4: Learning and Playing with Materials!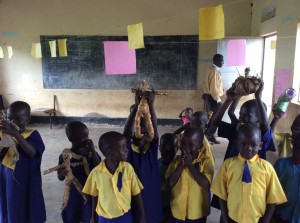 In June, children, teacher and parents at Nwoya Public Nursery School got together to make learning materials for the children. Learning and playing materials are scarce, so it is essential for the teachers to be creative and make use of their local materials. We are happy and incredibly inspired to see whole communities getting together, creating materials with which their children can play, learn and grow.
---
Photo #5: A colourful classroom, makes a colourful start in life!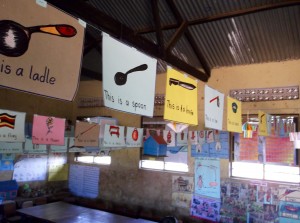 It is a true pleasure to walk into classrooms like this one! – but not only for us, children appreciate any kind of visuals and love to play with different textures. We are happy to see how teachers are continuously putting into action what they have learnt in teacher training, adding colour to the children's schooldays and lives. So far we have supported 10 caregivers to receive formal training and 36 caregivers in total  – help us to support more!
---
Photo #6: Let's grow together!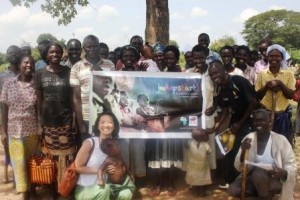 It was the International Day of the African Child when teachers, parents, children and the AR team came together at one of our schools to plant some tree seeds. On this beautiful day in June, we all gathered to commemorate the changes the Jumpstart! programme has brought about in the lives of our little ones and in their communities and to renew the commitment of everyone to bring these changes about.
With the right amount of water, sunshine, love and care of the community these seeds will, one day, grow to be beautiful and strong trees – and so will the children grow, all they need is our help, support and love!
---
Thank you for your support!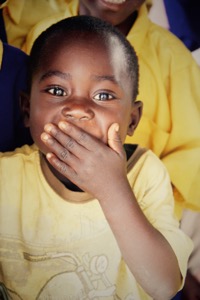 Happy 6 Month Jumpstart! Anniversary!