Our Team
African Revival has head offices in London (UK), Gulu (Uganda), and Choma (Zambia).  In South Sudan we work in partnership with other NGOs – The Brickworks and Fields of Life.  Our UK office is primarily concerned with fundraising, communications, and programme support, in order to support the programmes carried out by our 20+ dedicated staff in the field.
Across all our offices, we are lucky enough to be supported by a team of fantastic, hard-working volunteers and a board of experienced and passionate trustees.
UK Office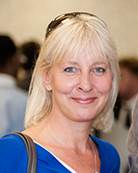 Elaine Miller – Executive Director – Elaine re-joined African Revival in September 2016. She has a track record of successful fundraising, having previously been Fundraising Director at African Revival between 2004 and 2010, and Philanthropy Director at The London Community Foundation from 2012 to August 2016.  Elaine has a wealth of experience in communications, sales, and marketing – beginning her career in radio advertising at Kiss FM and Xfm, before being appointed Head of Entertainment at Capital Radio Group.  Elaine is fizzing with ideas of how to create partnerships and build campaigns to engage businesses, individuals, trusts and foundations.  Married to Andy, they have two boys, Jamie & Chad.  Elaine enjoys music, rugby and walking their retriever, Harley.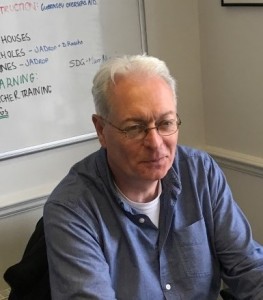 Brian Carrick – Part Time Finance Manager – Brian joined African Revival in March 2017, having previously enjoyed 40 years' experience in Financial Management – working in Banking, Manufacturing, Leisure in both the private and not-for-profit Charity sectors.  Brian's job involves keeping us on top of everything finance-related, reviewing our financial information, systems and controls, and producing figures for our board of trustees which combine the operations in the UK, Uganda and Zambia. Married to Jane, when he's not balancing the books he enjoys walking, reading about history and watching rugby.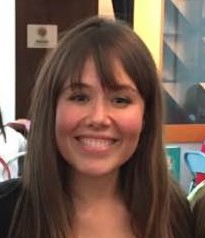 Catherine Inch – International Programme Manager – Catherine joined African Revival in October 2016 as a fundraising communications volunteer.  The role was so interesting she felt inspired and driven to get more involved – committing to a full time position with African Revival.  Catherine graduated from SOAS, University of London, with an Msc in Development Studies, previously working with NGO projects in Central America.  Catherine enjoys working closely with our in country teams, and has spent lots of time in Uganda.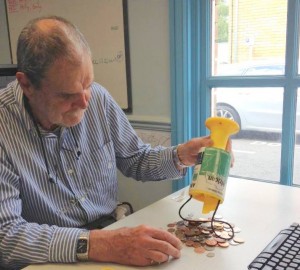 David Williams – Collection Tin Volunteer – David is a retired resident in the Hampton area. He has been helping look after African Revival's collection tins in Hampton Hill for a number of years and often helps out around the office, especially when our quarterly newsletter is about to be sent out!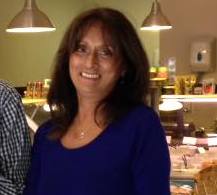 Cheryl Edwards – Collection Tin Volunteer – Cheryl is another Hampton resident who has made a fantastic contribution to African Revival over the years. As well as helping to look after collections tins in the Hampton area, she has also been actively involved in our Schools Linking Programme.
Uganda Office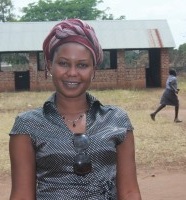 Scovia Ekit Opuch – Country Director – Scovia joined African Revival in 2011 after working with War Child Canada and comes with lots of experience of the challenges children face in education after decades of war, especially in northern Uganda. She loves to work with teachers, not only to improve girl's retention but also to create an environment for them to have the same opportunities as boys. Meeting assertive and confident girls (primary beneficiaries of the girls' sanitation projects) is what she looks forward to. Scovia likes to document African Revival's impact and is excited about the future.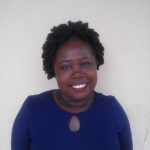 Monica Aguti Pinkett – Finance and Administration Manager – Monica joined African Revival in March 2018 as part of the Senior Management Team.  She brings a wealth of experience in Finance, HR and Administration, having previously worked for Lira NGO Forum and Invisible Children.  Outside of office hours Monica continues to devote time to learning new skills, with an interest in different cultures.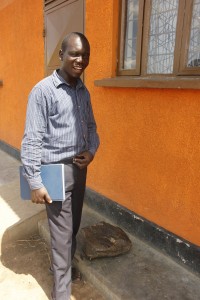 Vincent Komakech – Construction Manager – Vincent has a wealth of experience in construction. Prior to joining African Revival he was a Project Officer at the Norwegian Refugee Council. Before that he worked at World Vision and Action Against Hunger. Vincent's role at African Revival involves design, construction and costing of projects. He is also responsible for the process of tendering, acquiring the contractors, taking them through the sites, supervising the works, checking quality, processing and following up the payment process, and liaising with stakeholders like the District Government.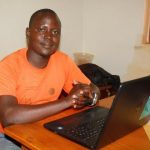 Thomas Kinyera – Phonics Officer – Thomas oversees the implementation of a new Phonics programme in the Amuru and Nwoya districts. The programme is funded by British Foreign School Society (BFSS) and The Allen Trust – focusing on 25 schools and training over 100 teachers in this methodology. He is an educationist and works very closely with the READ for Life team to roll out the phonics programme. He has worked with African Revival since January 2017.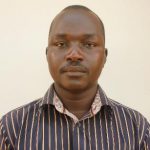 Richard Ojok – Speed Schools Coordinator – Richard is based in Nwoya District working on a project funded by Geneva Global. He is an educationist and experienced in administering programmes. Richard's role is to oversee the day to day management aspect of the project including supervision of project staff and indirectly caregivers and facilitators.
Anthony Oryema – Speed Schools Coordinator – Anthony is based in Amuru District working on a project funded by Geneva Global. He is an educationist and experienced in administering programmes. Anthony's role is to oversee the day to day monitoring and support supervision of caregivers and facilitators including ensuring quality in implementation and accelerated learning aspect of the programme.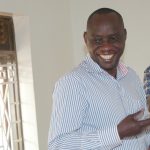 Wilfred Dokolinga Omara – Speed School's Supervisor – Wilfred is based in the Amuru District.  His day today responsibilities include; working with the speed school parents to help them support their children, monitoring the progress of classes, and providing additional teacher training.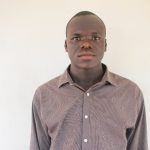 Ogen Justin – Interim  Hygiene and Sanitation Officer Ogen Justin comes with lots of experience in both community work and girls' training.  he is based in the Amuru District and is responsible for training teachers, and pupils in 26 schools in both Amuru and Nwoya.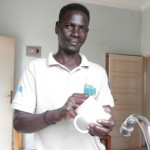 Wellborn Loum – Office and Security Assistant – Wellborn joined us in 2009 after three years' service with SPRING.  He is a valued staff member who welcomes all visitors to the African Revival office. He is happy to see African Revival expand its operations in the region.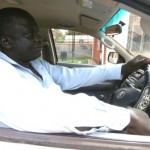 Tonny Oyat – Driver – Tonny joined us in 2008 and is the second longest serving member of staff.  Tonny previously worked for a member of parliament in Gulu Municipality.  In 2010 Tonny entered African Revival folklore whilst driving our founder and some trustees from Murchison Falls National Park to Pakuba Air Strip in record time to catch a flight they were running late for using his local knowledge.
Zambia Office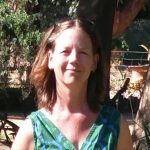 Inge Akerboom – Country Manager – Inge joined the African Revival Zambia team in April 2018.  Originally from The Netherlands, she studied Cultural Anthropology, before moving to live in Zambia in 2008.  After managing conservation projects in the northern part of Zambia for ten years, she considers this beautiful country her home.  A strong believer in quality education and equal access for girls being the key to development, she is very excited to work with the African Revival team and help it grow. Married to an ornithologist, and mother of a seven year-old 'bush baby', they spend most of the family's free time in national parks in and around Zambia.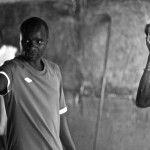 David Moono Sangweni – Construction Supervisor
Dave, as he is fondly called at the office, joined us in 2006 when African Revival was first starting out in Zambia. He initially joined the organization as a carpenter and driver until 2010 when he was promoted to Construction Supervisor. He is the longest serving staff at the Zambian office, having completed over 60 projects so far. David has exceptional driving and community mobilisation skills, and traverses the Kalomo and Choma terrain with ease. He is also very good with craft works, to the point that most welding works for projects are done by him. In his spare time, he does some carpentry and he also happens to be a very committed member of his church where he is an Assistant Pastor.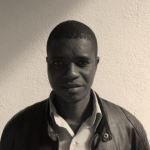 Raymond Hadangalika – Livelihoods Field Officer Raymond was born in Choma, under chief Moyo in the Southern Province of Zambia.  He was raised in a rural area and grew up shepherding and growing crops.   Raymond has a certificate in General Agriculture from the Twin Fountain Agricultural research Institute.  In 2004 Raymond was employed by Namwianga Mission Farms as a foreman and dealt with field crop management, joining Mopani Copper Mines at the end of 2006.  Raymond then returned and started running an agricultural business, gaining a General Certificate of Education and enrolling at the Zambia College of Agriculture in Monze in 2015.  Raymond is married – he and his wife Bridget both enjoy attending church regularly.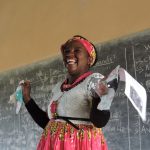 Miyoba Makeoba Hakubecha – Sanitation Consultant Miyoba studied Social work and counselling.  She's worked as a trainee psychological counsellor, visiting rural health centres to provide counsel on HIV/AIDS treatment and conduct tests – and a research assistant for a range of organisations including CARE International.  She's a great facilitator with brilliant youth mentoring skills.  Miyoba dedicates her skills and passion to the Girls and Sanitation Programme at our schools in the Kalomo District.  She's married to a teacher, they have one son.
Interested in volunteering? Check out our information for volunteers here.