Girls' Education
Ensuring equal access to high-quality education for girls is one of the most important investments any country can make in terms of its economic development and the wellbeing of its citizens.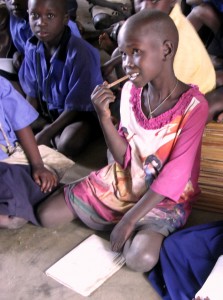 Girls' education is guaranteed to improve the quality of life of current and future generations, with some of the key outcomes being:
Greater political and civil society participation
Greater awareness of human rights
Fewer child marriages
Less incidence of sexual abuse
Healthier children
More economic engagement and growth
Unfortunately, in northern Uganda, as in many parts of the world, girls are at a disadvantage compared to their male counterparts. The culture of the region – particularly in poor, rural areas – is still highly patriarchal. Girls are expected to do household chores, to look after younger siblings, and to marry early.
As a result they are less likely to be sent to school in the first place. For those fortunate to go at all, they are likely to drop out of school early. Reasons for this include:
Problems associated with poverty
The embarrassment of having to deal with menstruation without proper sanitation facilities and products
Having to deal with pregnancy at a very young age
African Revival wants to change this situation.
What We Are Doing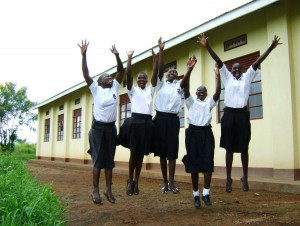 Recently, we implemented a girls' education projects in 10 schools, benefiting almost 3,000 girls over three years. Having researched the challenges facing girls in terms of giving them access to, and keeping them in, education, we found that the most significant obstacle was menstruation. In partnership with Marie Stopes, we created a project to overcome this challenge and transform girls' lives, allowing them to stay in school and manage their periods in a sustainable and effective way.
The project achieved the following:
The construction of girls' changing rooms and washrooms
The provision of sanitary pads and sanitary items
Training for girls and boys in sexual and reproductive health (SRH) and life skills
Training for girls in menstrual management
We have continued to improve water, sanitation and hygiene facilities at schools throughout northern Uganda, in an effort to increase the retention of female students. Find out more from our case studies:
Susan Piloya
Susan Piloya is a 14 year old student in Class P6 at Koch Goma Primary School in Northern Uganda – one of the most highly populated schools in the region, with over 1,000 pupils. After attending one of our workshops for girls, Susan told us: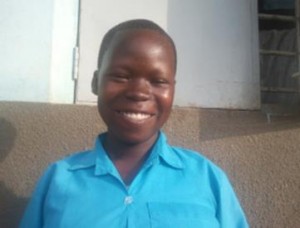 "Before the girls' workshop, I would always feel uncomfortable going to the toilet to change my pads. Now I know it is normal and I'm healthy. I learnt how to take care of myself during menstruation and this has allowed me to stay freely in school throughout my period".
"After the training I have been telling other girls how to avoid early pregnancy. I have been telling them about using condoms or abstaining from sex so that they can continue with their studies uninterrupted by pregnancy."
Because many pupils lack the opportunity to become more aware of changes in their bodies when they grow up, girls often become the target of bullying and ridicule from boys at school. We have found that, unfortunately, many girls suffer these experiences in silence and are put off going to school as a result.With greater information, we hope to change this outlook for many girls in the region.
Since the start of the project, we have found strong support, both from teachers and from the local community, for girls' education. This support has been so strong that the school community itself came up with the idea of forming after-school clusters. This allows a senior mother figure to mentor and support girls experiencing challenges, and is proving to be an effective way of encouraging girls to stay in school.
The Future
We hope to create a ripple effect from this programme, with benefits spreading to communities surrounding the schools we work with.
In the future we hope to expand our reach in this area, and focus on parents as well as students. Parents play a vital role in building solid foundations for girls' lives, determining the extent to which they will flourish in early and later life.