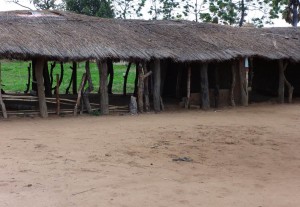 Thanks to a generous donation, made by Keith Morris, we are now able to go ahead with our construction of an orphanage and classroom block at Kajo Keji.
The newly constructed classroom block will replace existing facilities pictured here.
Kajo Keji is a town lying on the border with Uganda, in the most southern region of the country.  Many  of the orphans living here lost their mother during childbirth. Both of these construction projects will be carried out with out in country partners – Brickworks.   Literacy rates remain low in the country, which has been disrupted with civil war between leading to displacement and having dire impact on child education.  Infrastructure provision is vital for ensuring improved access to education in the country.