Model Schools
What is the Model Schools Programme?
By implementing high-quality, sustainable programmes, we can ensure that highly-performing schools act as catalysts for other schools; successes can be replicated, challenges can be learnt from, and best practices can be adopted.
Supporting a small number of model schools is effective and efficient. By concentrating our efforts and resources on creating centres of excellence, we produce a ripple effect, with neighbouring schools learning from and copying good practices. These schools then improve across the following key areas:
Teaching quality
Academic achievement
School management
We build close relationships with our model schools, ensuring that programmes and subsequent schools' performance are routinely monitored. This is so we can continue to build on successes and learn from challenges, thereby maximising our impact.
How does it work?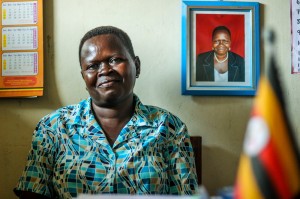 We work with a select number of government-aided primary schools in northern Uganda for a period of 3-5 years. In this time we offer holistic support to improve equal access to quality education.
We start by carefully selecting a school to work with. For this we involve government officials and local leaders to ensure local buy-in from key stakeholders. We target communities that we have already identified as 'helping themselves', in order to ensure greater sustainability; 'it is easier to speed up a rolling rock than it is to move a stationary one'.
After selecting a school, we sign a contract, or Memorandum of Understanding. This outlines what support we will provide, but also crucially lays out what improvements the school should be aiming for in order to motivate it to be an agent in its own success and development.