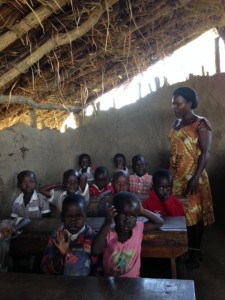 There are 66 children at Koch Lila Pre-Primary School, most of whom learn in an outdoor, thatched classroom. Their teacher, Aciro Catherine, holds the pupils' attention and they are mostly perfectly behaved. The children sing and clap in time with her, singing songs in English, answering her questions. 'Hello Children', she sings, and 'Hello Teacher', they reply. 'How are you?' she sings, and 'I am fine' they reply.  Most of the children know the words, but the littlest ones struggle to keep up.
In this particular class, two year groups were mixed together. It had been raining, and as one class usually learns outside, this meant that both K1 and K2 pupils were in the same classroom to shelter from the rain. While Catherine was doing her best to engage all the children, the material she was teaching was too advanced for the smallest children, those in K1.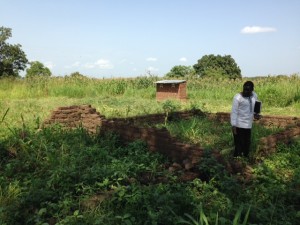 Catherine is one of the few nursery teachers studying for her ECD Diploma. Ordinarily nursery teachers in rural schools in Northern Uganda are equipped only with an ECD Certificate, demonstrating just one year of study. This qualification represents the barest minimum of training, but most teachers cannot afford to complete their Diploma.
Koch Lila is an excellent example of a pre-school that is doing well but that is in real need of extra resources. Catherine and her colleague are doing a very good job with their 66 pupils, but if enrolment is to increase substantially over the coming years, more resources are needed. The children need a proper play area; they need much more in the way of teaching and learning materials such as coloured blocks, pens and pencils and books; and the teachers will need skills development.
In K2 there are 35 pupils out of 40 who can perform a simple task of reading and writing their own names; this is an impressive achievement, and shows that there is great promise for these children when they begin primary school in a year's time. Our aim is to build on these successes, maximising the potential of the teachers and therefore of the pupils. After all, nursery school is the beginning, and with a Jumpstart! thanks to African Revival, these children can achieve anything.