Meet Mavelas – Anaka Pre-Primary School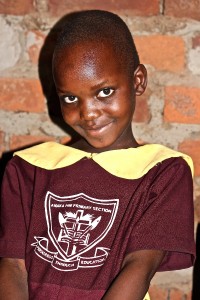 Yek-Pa-Rwot Mavelas, aged 5, is a pupil at Anaka Pre-Primary School. Mavelas is headgirl of her class, and she looks the part, dressed in a yellow and maroon uniform, with black lace-up shoes.
The pre-primary school class at Anaka consists of two different school years, K1 and K2. There is only one classroom at the school, and so Mavelas has to learn with the youngest pupils, some of whom are only 3 and have only been at pre-primary for a few months.
Despite this difficulty, Mavelas is flourishing at school. Her favourite subject is English, but she also loves to play. She plays football, skipping rope and merry-go-round, and at home she likes to play dodgeball. She loves school so much that her mother says even when she's sick she tries to come to school.
Mavelas can't yet write her own name, but she is still learning, and her teacher says that in a few months she will be able to. This is much further than some children in primary school have progressed after two or more years.
Asked what future career she'd like, Mavelas says she wants to be a nurse as she'd really like to inject people! She is excited about moving on with her friends to P1, the first year of primary school, and after three years of pre-primary she will be well-equipped to truly benefit from primary school.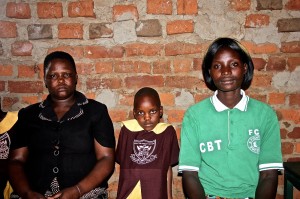 Parent – Nga-Omita Joyce
Mavelas' mother Joyce thinks nursery is incredibly important; before P1 (the first year of primary school), she says, often children cannot count from 1-10 and they do not know how to write or draw. Nursery school gives them these foundational skills, and the boost to be able to make the most of primary school.
There have been many changes in Mavelas, says Joyce. Before coming to nursery school her daughter was stubborn and naughty and used to fight other children. Now she is easier and better-behaved thanks to the gentle discipline of being at school. When Mavelas gets back home after school she helps with cleaning utensils and fetching water, easing the burden on her mother. She also teaches English to the young children in her village. These simple actions demonstrate how pre-primary school can equip children with social skills, and become agents of change within their families and communities.
For Joyce, education is the number one financial priority in the family, even before food. She wants Mavelas to achieve a lot; she says she's sure her daughter can become a nurse if she works hard at school.
Teacher – Adong Evelyn
Evelyn has 47 pupils – 23 in year 1 (K1) and 24 in year 2 (K2). The two classes are combined because there is only one classroom; this makes it much more difficult to teach, as K1 are slow learners, and K2 are very active.
Evelyn says that on day one the children are crying and want to go back to their parents. It takes a few days for them to settle, and about a month for them to start holding pens and writing on paper. They practise writing on chalkboards with chalk first, to become used to the pen-holding action and then transfer to exercise books. Writing does not come naturally to them, especially as many of them have not seen adults and older children writing before they come to nursery school.
The children love to sing songs and dance. Evelyn says that if she doesn't make rhymes or songs a big part of a lesson, they won't enjoy the lesson. If she makes it fun the children will be happier and more engaged, and the lesson will go smoothly.
When asked if she likes her job, Evelyn says she likes it too much! She says that if she weren't at school she'd be engaged in domestic activities, much like the children at Anaka. She holds only an ECD (Early Childhood Development) Certificate currently – which represents a year of study – and she'd love to work towards her ECD Diploma but the fee is just too high for her to manage.
There are a few problems with the parents, she says. Some don't engage with the school – they are busy participating in domestic work, or harvesting /planting crops. Some are not serious about their children, and they leave young children with older siblings while they go for cultivation work. These are challenges faced by many nursery schools, as they are community-supported rather than government-funded. If the support from parents is not there, the schools will not flourish. It takes engaged parents and committed, determined teachers like Evelyn to ensure children are provided with some form of essential pre-primary education.