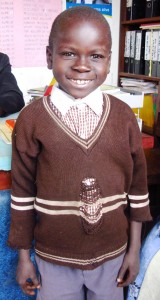 Okello Elvis has to be one of the smiliest children at Koch Lila Pre-Primary School. Elvis is 6 years old and is in K2, his second year of pre-school. His huge smile is testament to how much he is enjoying school.
Elvis is only 6 but he can write his name almost perfectly. Many children in Ugandan primary schools who are much older than Elvis cannot perform this very basic task. Because he has been to pre-school he has had the opportunity to build key foundational skills at a young age.
Elvis's favourite subjects at Koch Lila are writing and drawing. His teacher encourages her pupils to come up to the blackboard and draw pictures for the other children. Unfortunately there are not the resources for each child to be able to colour and paint as much as the teacher would like; they must make do with only a few pencils and workbooks, a far cry from the rainbow of colours available to children in some urban nurseries.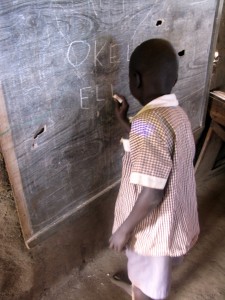 When he's at home, his mother says that Elvis practises his ABC and draws pictures of pots and chickens, which are admired by everyone in the village. He says emphatically that he wants to be a teacher when he grows up, and that he wants to ride to school on a motorbike. When other children come to play with him at home – some of whom don't go to school – he tells them to draw and copy his writing. He's already becoming a teacher, all he needs now is the motorbike!
When asked whether he enjoys school Elvis's eyes absolutely light up. He says he really enjoys being at school, learning and playing with his friends. And there's that big smile again.
Elvis's parent – Layado Margaret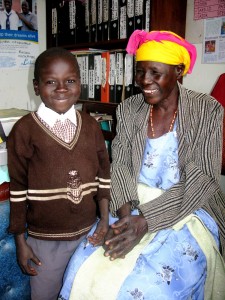 Layado Margaret looks old to have a 6-year-old son. In fact, Margaret is Elvis's grandmother. His mother died when he was just a baby and Margaret assumed the role of Elvis's parent. This is a custom in the Acholi culture of northern Uganda, and means that Elvis is absorbed into a wider, larger family and won't feel the loss of his mother.
Margaret is only too pleased to talk about Elvis's achievements in pre-school, and its effects on his family and community. She tells us that Elvis knows how to write his name, he can count, and he knows his alphabet. He is also much smarter than he used to be and takes a real pride in his appearance, wanting to be as well-presented as he can be. He leaves his uniform to soak every Wednesday and washes his own clothes. He has learnt good hygiene practices at school, which he teaches the other children in his village, encouraging them to also look after themselves.
For Margaret the effects of Elvis's pre-school education have been profound. She has seen such positive change in her grandson that she has been motivated to work harder and save money in order to be able to continue paying his school fees. She tells us that she previously had not saved any money. Now, she says, she has a great incentive to save money. She knows it will give him and all of them a brighter future, and seeing how well Elvis is doing is a real driver for her to work harder to support him.
Elvis' teacher – Aciro Catherine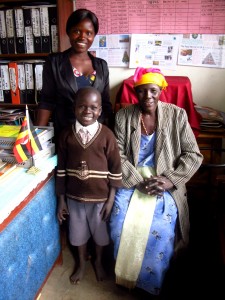 Aciro Catherine is one of the best pre-primary teachers in the area. She is actually the headteacher of the pre-school at Koch Lila, and holds a Diploma in Early Childhood Development (ECD). She loves her job and the children she teaches, and the feeling is clearly mutual. Apart from enjoying her lessons in school, the pupils also help her outside school with tasks like fetching water, showing how much they respect her.
Catherine says that when children first arrive in K1 (their first year), they are shy and often crying. They don't answer the teachers or engage with them properly. The teachers must assume the role of the parent, encouraging the children to open up, and after three days they are a little happier. Their favourite activities when they first arrive are singing and clapping, while another favourite activity is eating – they love porridge!
The teachers begin by teaching them rhymes and songs, often in English, as dictated by the curriculum. The littlest children can't speak or understand any English when they arrive, apart from 'hello' or 'hi'. They are also unfamiliar with holding books and pens; if the children want to try and write, the teachers must hold their hands. These practices are time-consuming for the teachers, and also mean that they must be well-trained in techniques for teaching very young children. Catherine is working towards a Diploma in Early Childhood Development (ECD), but most teachers and caregivers in nursery schools are far from well-qualified, usually holding only an ECD Certificate, which represents a year of study.
The nursery pupils love looking at pictures and colours, and Catherine wishes she had more resources for them. They have a few coloured blocks, and each child has a workbook, but that's all, and it really isn't enough. Children in many urban nurseries are surrounded by colours, pictures, toys and books, all of which fire their imaginations and encourage creative play, something that is essential to a child's development.
Considering the limited availability of materials, though, Catherine is doing a great job: 35 out of 40 of her children in K1 can write their names. This will make their transition into primary school so much smoother for both pupils and teachers.
Give a child like Elvis a head start with Jumpstart!