St Kizito Bidati ECD Centre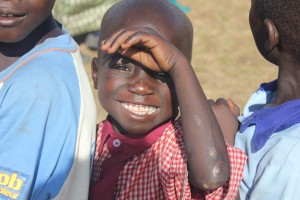 Established by the Ugandan government in 2009, St Kizito Bidati Early Childhood Development (ECD) Centre, located in northern Uganda's Nwoya district, is one of our jumpstart! partner nurseries. Nestled just off a dirt road, surrounded by large shady trees, it is part of St Kizito Bidati Primary School which the children will attend when they are old enough. The rural school grounds are sprawling, and so there is plenty of space for energetic children to run around, and play.
The ECD Centre is open between 8-12pm; with plenty of free-play and breaks inbetween, to provide children with the opportunity to interact with each other. St Kizito Bidati has all the components to provide children with a positive school experience. For example, there is a kitchen on site to prepare porridge as a midday meal for pupils, many of whom walk a considerable distance to school each morning. A large container of water stands by each classroom door, which children are free to help themselves to when they get thirsty. The nursery also has a latrine block: one latrine for teachers, one for boys and one for girls. Finally, there is a bore-hole on the school grounds, so there is plenty of water available to promote good hygiene and sanitation practices – keeping the children in good health.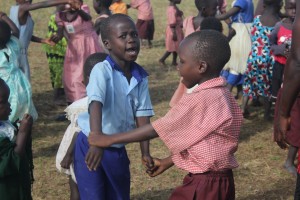 Each morning, the teachers gather all the children outside to play games and perform songs and dances together. Denis, the K2 teacher, noted that children often arrive at school feeling weary after their long walks. As such, the teachers decided that beginning the day with some fun and games re-energizes the children, prepares them for a productive day of learning, and promotes good team-building. After 30 minutes of outdoor activities, the pupils line up behind their respective teachers and walk (or dance!) together to their classrooms for lessons.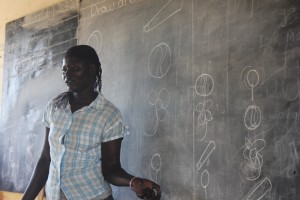 In the youngest class, K1, there are 70 students. Although this is a large class to manage, it is encouraging that so many parents are sending their young children to nursery. The class is taught by Petra, who African Revival recently sponsored to attend ECD training. Petra is a patient and loving teacher, and although her young pupils have only been in formal education for several months, they are adjusting to their new routine well. Petra has already developed a good relationship with her pupils, whom she loves very much: "I think dealing with young children is a special gift from God. I feel I am gifted because even when I didn't have my own children, I had a real love for children. So I know I can look after my students correctly. I take good care of them because they are still young; they get scared sometimes, and need special attention so that they can grow up well."
Despite Petra's best efforts to create an inviting learning environment, the classroom has limited resources which are not conducive to effective learning; the classroom is small and dark, and there are only 40 chairs and five tables for students. This means that the 30 remaining students sit on a mat on the floor during lessons.  Petra has recently been working with our ECD monitors to create more posters and learning materials to support her students' learning, brightening up her classroom and helping children learn.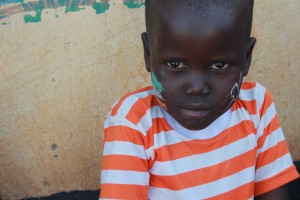 One of Petra's pupils is Isaac. Isaac enjoys school, particularly writing; currently the K1 students are learning how to form the letters of the alphabet. Petra has made colourful flash cards which are helping students like Isaac with this activity. After Isaac finishes school for the morning, he likes to play outside with his friends – like many boys and girls across the globe, football is one of his all-time favourite pastimes. As one of the school's youngest students, Isaac is a shy young man but our hope is that during his time at pre-primary school, Isaac will grow in confidence, and with the help of Petra and other teachers, develop the academic abilities which will enable him to one day start primary school, well-prepared for whatever future he chooses.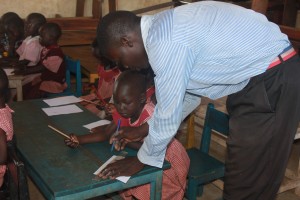 K2 students are taught in a larger classroom by Denis; young and smartly dressed, Denis is wildly popular among his students. His pupils sit around 8 tables, perched on a combination of benches and small chairs. Denis's desk is located at the back of the room, but you won't find him sitting there often, because Denis is an active teacher, and spends most of his time in front of the blackboard. Currently, the children are working on their reading and writing skills; Denis patiently says words, which the children diligently repeat.  Denis encourages participation, and the children are often called to the blackboard to answer questions, and point out answers. In this supportive environment, Denis and his students clap and sing when their fellow students' correctly answer questions. Although the class is large, Denis ensures that he moves around the classroom to give children one-to-one support, to help pupils who are struggling with their work.
Denis has fully submerged himself in all our jumpstart! activities; he recently joined a teacher-changer network, where he was recently recognized for his excellent ideas for his classroom. Denis told us that being part of this network has helped him as a teacher: "we really want to work together, and support one another because we all have the same goal: to see our pupils succeed. Through these meetings where we can discuss our ideas, I feel like I am already becoming a better teacher because I have grown in confidence".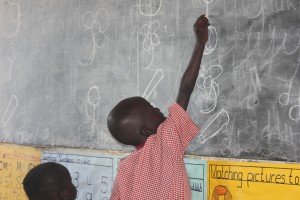 K3 is the oldest class at the nursery, where the pupils are preparing to begin primary school next year, and they are taught by head-teacher Susan. Like Petra and Denis, Susan is an energetic and motivated teacher who is keen to ensure her pupils are fully prepared for the big step they'll be taking next year. Like the other nursery classes, the K3 classroom is simple, and in need of age-appropriate furniture. The pupils sit on tables and benches designed for older primary school children. As such, although each child has a place to sit, their arms struggle to reach the table. However, in the coming months, African Revival will be working with the centre to improve their existing facilities, through furnishing classrooms with age-appropriate furniture which will further enhance the children's learning experience.
One K3 pupil, Ongom Innocent, is mentally handicapped and although there are no resources or extra support for children with special needs in Uganda, Susan and the pupils are sensitive to Innocent's abilities and needs, and gently encourage him as he answers a question at the front of the class. This kind of camaraderie at a young age is touching to see and our hope is that the class continue to support, and encourage one another as they grow up – regardless of gender, abilities, or background.
In spite of the limited resources, the teaching quality to St Kizito Bidati is excellent because the teachers are passionate, creative, and motivated – and those attitudes are contagious. Their pupils are confident, well-behaved and actively engage during lessons. Through investing in this nursery, our desire is that children continue enjoying learning as they progress to primary school, secondary school, and beyond.